Hi, my name is Tony Spanjers. As you can see from the photo we were a group of sixteen, made up of "Captains and Presidents", Captains being Orange and Presidents being blue. We played a two ball match play stableford format with Captains prevailing on this particular trip. We are all from Perth, Western Australia and are members of Araluen Golf Resort, which is situated in the hills South East of Perth. Those of us who are no longer working generally play every Saturday and Wednesday together. Our handicaps range from 7 to 27, so a fairly diverse mix of ability.
For some time have been touring as a group, with numbers varying between 12 & 16, every year in July or August [winter in Perth]. Each year we choose a different tour director and different location. Last year we toured and played golf in Da Nang Vietnam, and 2014 we were in Pattaya. We have also been to China's Mission Hills, New Zealand, the Gold Coast Australia, and sand belt, Melbourne Aust.
We were all very happy and impressed by our Hua Hin golf tour, in fact we considered it our best tour yet from all angles. Prices were very reasonable (important as a few of our members aren't working). The golf courses were excellent, especially Black Mountain Golf Club and the management of our itinerary and transport plus tee times was exemplary. Our only concern was the condition of the greens at Sea Pines but overall we were very happy with the caddies, the weather [only got wet once], the hotel which was in a great location in the centre of all the entertainment venues and had the most friendly staff, plus the Thai people in general.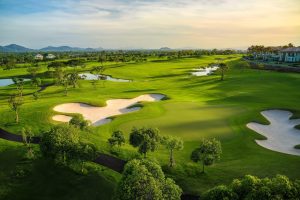 Our best score was a 49 points which was outstanding, from memory first game at Black Mountain…it wasn't me!
After every round, we enjoyed group beers, ate lunch, and collated scores and updated team positions, paying out prize money to first, second and third as well as settling personal bets.
Back at the hotel it was a quick change and head for the pool's swim up bar for a couple of hours. All would meet in the lobby around 8 pm and head off into the night and choose a local restaurant for dinner. After dinner some headed back to hotel, some to a nightclub or pool bar, eventually all ending up in bed ready for the battle to resume the next day. As I said, it was a great trip and one to remember. I'm confident Thailand will feature in future outings.
This post has already been read 10 times!