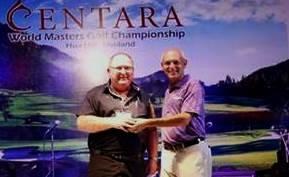 My name is Graham Cater, an Aussie who plays Southport Golf Club on the Gold Coast of Australia. It is there I hone my skills and test my mental strength to ready me for our annual Thailand Golf Tour.
Playing golf in Thailand is not just about the game it is an exotic experience that has left me with the most wonderful memories from the Land of Smiles. Now I don't always play well and I have been known to miss the odd easy putt but nothing can stop the enjoyment I get playing on some of the best golf courses in Asia.
I first heard about golf in Thailand and Golfasian whilst playing with a group in Singapore. It sounded exciting and the more I investigated the practicalities of putting a tour together the more enthusiastic I became. Then it all came together in March 2012. I had contacted Golfasian and received a quick response from Bee. I was amazed at the efficiency with which Bee put our first golf tour in Hua Hin together. Local travel arrangements, hotels and golf all materialized without a hitch. Five years on and Bee is still looking after our group. She has become our good friend as have many of the wonderful staff of Golfasian.  Currently we are considering Malaysia, Vietnam and Cambodia for an extended tour, all of which are covered by Golfasian with their own in-country staffs. What makes touring so easy with Golfasian is their awareness of your individual needs. This is integral to their business model. There are no compromises, no snags and no surprises.
Thailand is a beautiful country with a wonderful culture. The people are most welcoming, the food is sensational and golf courses are magnificent. I love the green curries, Pad Thai and the tasty whole fish with an accompaniment of shrimp and lobster, all washed down with a cold Singha beer.  What is surprising is how little it costs to have such a spread of dishes.  We play courses in Chiang Mai, Pattaya and Hua Hin. We consider Hua Hin our home-from-home destination. The sweeping fairways of the Pirapon Namatra-designed Banyan offer golfers a world class experience in spectacular surroundings. The championship course Black Mountain is everything you would expect and is acknowledged as the best golf course in Asia. Hosting both Asian and European Tour events it has won a string of international awards and is my favourite course. Gassan Khuntan in Chiang Mai is in a truly exquisite setting located in the northern mountains of Thailand. The extensive water hazards will challenge most golfers so bring your best game to this course. It is shameless and can strip away your dignity, but
what a pleasure. You cannot talk golf in Thailand without recognising the delightful Caddies. Those gentle people who give intuitive advice, moral support, best club selection and playing strategies to suit the course and your game. My experience tells me to listen and follow their wisdom.
From the mountains to the sea there is a golf course in Thailand for every golfer. It is such a relaxing experience, it is beautiful and such fun. Golfasian cannot improve your golf but they can give you a golfing experience you will never forget. I have recommended 60-70 golfers and friends who have also enjoyed the Golfasian experience and all returned with the same praise. Thanks for providing such outstanding service.
This post has already been read 11 times!