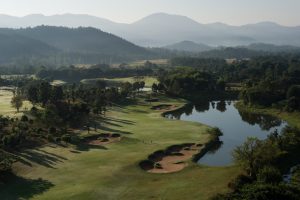 For some of us golfers it's a dream, certainly for me. I'm sitting on the balcony of my rented condominium looking out over beautiful Chiang Mai Highlands Golf Resort in the north of Thailand, my new home. Am savouring the view but also having to pinch myself and acknowledge how lucky I am.
It won't be all plain sailing because the site is quite remote and my wife (also a golfer) and I have spent the last 9 years in bustling and bedazzling Bangkok so this is a huge change in tempo. However, we plan to give this life a go and see if our future lies here.
This is day two and I have decided to write a blog about the experience. It won't be about me, but hopefully give readers an insight into this area, it's golf and this particular lifestyle…keeping things in the 'Zone'.  The main reason I am writing, is that whilst I'm sure such blogs exist for places like Florida or The Algarve I haven't seen such a blog for Thailand. I also won't keep up the blog for too long, because as I said, it's an insight only.
On that note let's see where the next several weeks take us. I'd value any feedback or questions.
Wonder when we'll play our first round?
JC
This post has already been read 10 times!