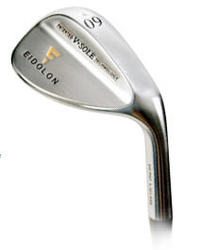 "I don't remember life before golf. Our small South Texas town had a 9-hole golf course that was a focus of our family's life. My earliest golf memory is riding on the ball pocket of my Dad's big old Burton golf bag, on a Bag Boy pull cart. I later 'graduated' to pulling that cart for what I remember was $2.00 per round, $3 if I cleaned and polished the clubs and his Allen Edmond shoes.
My Dad was a good amateur player. And the Thursday, Saturday and Sunday games were important to us, watching good players tee it up and go at it. In the summer, each little town had their annual "Barbecue Circuit" tournament; 2-man better ball. To us kids, that was the 'real' Tour, the one we could relate to. There'd be a hundred people around the final green watching the Championship flight finish."
Continue reading the biography and blog of Terry Koehler, president of Eidolon Golf and author of The Wedge Guy, the webs only blog written by a president of a golf club manufacturer. Terry shares his views on what it is like to run a golf equipment company and how the USGA's new rules being considered will affect the golf industry.
Let me know what you think of Terry's blog by posting a comment here or send me an email at my Thailand golf vacation company and I will take care of the posting duties.
This post has already been read 10 times!