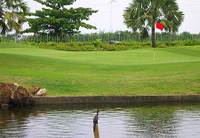 When playing golf in Thailand it pays to plan carefully for all par 3 holes. Most Thailand golf courses have four par 3's which the average golfer can reach. Pars on these holes can do a lot for your score and give you a psychological lift. Double bogeys or worse double par can easily ruin an otherwise good round, so it pays to approach these holes also with a certain caution and correct club selection is the key to success.
Here are the four steps that I use to slect the correct club when playing golf in Thailand.
1. FORGET YOUR EGO – My best shots have always come when I forgot my ego and cared little about what club my mates chose. After all it is not a driving competition, but rather an accuracy contest. Take as much club as you will need to carry the ball to the pin. I did an informal survey last week during our 4-ball Texas scramble tournament at Lam Luk Ka Country Club and found that 90 percent of the tee shots that I witnessed on one par 3 came up short of the hole and fully half were short of the green! Moreover, on most Thailand golf courses, the green side hazards, be it water, sand, or grass bunkers are more often than not strategically placed in front of the greens. So I always consider taking a longer club than I might expect to use.
2. PIN PLACEMENT – The second step to consider is distance to the pin, not the center of the green. It can vary significantly, depending on pin placement. The caddies in Thailand almost without exception will give you the yardage to the center of the green, as stared on the scorecard and marked at the tee box. Only in a few cases will they know enough to add or subtract yardage depending on the days pin placement. If you are not sure, ask! I find the distances; especially on Thailand golf courses with large greens vary by two or more clubs, depending on pin placement and position of tee markers. Remember; distance on card is from middle of tee to middle of green.
3. WIND – I laugh when I see my friends toss some grass in the air on the tee box. The wind in Thailand will often times be blowing differently at the green, where its effect is greatest. So check the flag and trees, if any, near the green, this is a better indication of how the wind will come into play.
4. ELEVATION – Usually, due to the flat nature of most Thailand golf courses this is not so important. However, if the green is elevated, you are better to add 10 yards to the distance and if it is below the tee box, deduct 10 yards.
Knowing you have correct club will increase confidence and help you make a smooth swing giving you the best chance for par, or even birdie.
If you have any good club selection tips please feel free to post comment here or contact me at my Thailand golf vacation company and I will take care of the posting duties.
This post has already been read 10 times!