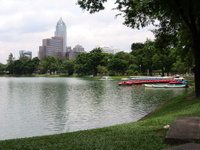 Here are the final 8 of my best suggestions for non golf and non tourist activities to do while winding down or taking a day off from your Bangkok golf.
9. Take a walk in the park. Lumpini Park, at the intersection of Silom Road and Rama IV, is the city's oldest and most popular park. It's location near the centre of the business district means that is attracts an upscale early morning crowd of exercisers and Tai Chi practitioners from the time it opens at 6am until around 8am. The park has two lakes, and paddle boats are available for rent. There is also a library, and at certain times of the year the park becomes the domain of the city's kite flyers.
10. Use an Internet Café. Over the past few years the number of Internet Cafes has grown enormously, not only in Bangkok, but across Thailand. Regardless of where you stay there will almost definitely be an Internet Cafe within walking distance. Most offer high speed broadband access at reasonable cost and some offer refreshments and food.
11. Shop at Chatuchak "Weekend" Market. Claimed to be the biggest weekend market in the world, it's actually open every day except Tuesday, but with many more traders at the weekend, especially on Sundays.
12. Play Chess. Check out the Bangkok Chess Club, meeting places include The Bull's Head and Admiral's pubs.
13. Amuse yourself at Dream World. A Western style amusement park north beyond the old Don Muang airport offering arcade games, a roller-coaster, Snowland, go-carting, etc..
14. Try the Flashlight Market. An interesting place to visit for bargains. People from upcountry come to Bangkok in their pick-up trucks to sell all kinds of strange goods, mostly second-hand. Although it officially starts at about 4 pm, the real selling takes place very early the following morning. Continue to the Night Bazaar (Suan Lum).Whilst it is aimed at tourists, everything is sensibly priced. There are loads of restaurants and bars, some serving real brewed beer from Tawan Daeng brew house. A large open arena area has live acts on every night, and you can sit and eat and drink in the food court area.
15. Attend a Pub Quiz. There are several run every week at pubs such as The Londoner, The Bull's Head, and The Dubliner. Who knows, with a little luck and your trivia knowledge you could be the big winner!
16. Work out at the Huamark Sports Complex. The Indoor Sports Training Centre there provides teaching and training for many sports, ranging from aerobic dance and badminton to volleyball and weight lifting etc..
If you would like to share your best non golf activity suggestions, please feel free to leave a comment here or send me an email at my Thailand golf vacation company and I will take care of the posting duties.
This post has already been read 13 times!