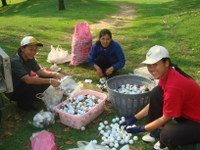 As my friends and I sit sipping a cold Singha beer after our Thailand golf round, the conversation often gets around to: What ball do you use and why? Do expensive balls really help?
Personally, I like the Top Lite XL3000 because for me it seems to have the right mix of spin, feel, and distance, and it is more reasonably priced than the more highly advertised balls. Other good balls that are available in Thailand and are not too expensive at around 800 baht or $23 US per dozen are the Maxfli Noodle, and Srixon AD333.
The more expensive balls, seem to be a waste of money, as i do not score any better. This does not mean that my budget golf ball selections will be best for everyone. For those of you who hook or slice too much, you may do better to use a low spin ball such as the Wilson Staff Px3 or a distance ball like the Callaway Warbird.
What other golf ball options exist in Thailand?
Here in Thailand we have some advantages in keeping down the costs of golf balls. Firstly, caddies are great at finding and retrieving balls which we would normally elsewhere give up as lost. I have written before about Thailand golf ball divers where each course has their share of "klong boys" who fearlessly comb the dirty waters around each courses to retrieve miss hit golf balls for a small 20 baht tip.
Secondly, even if your ball is lost, there is a good chance that the next time you play at the same Thailand golf course you will be able to buy your own ball, or one just like it, back at a much reduced price!
If you are golfing in late afternoon at most Thailand golf courses you will see an amazing scene (see photo insert) where scores of newly found golf balls are cheerfully cleaned and sorted by the local Thai staff only to go on sale the next day at the pro shop, golf course kiosks, and by independent golf ball sellers found just outside most Thailand golf clubs.
While driving up to any Thailand golf course keep your eyes open for golf ball sellers on the roads leading up to the golf club. They usually have a table set up under a colorful umbrella with bags of used balls, often sorted by name brands in good condition. The sellers do not always distinguish between say a Titleist Pro V1 and budget golf balls. The cost here is even less than buying used balls in the golf club's pro shop, with a dozen balls selling for 200 baht ($6 US). In fact, I know of a number of regular golf visitors to Thailand who stock up on good quality used balls here and use them throughout the US or Europe golf season; an innovative way to justify the cost of a Thailand golf trip indeed!
If anyone has a golf ball recommendation or suggestion please feel free to post a comment here or if you prefer send me an email at my Thailand golf vacation company and I will take care of the posting duties.
This post has already been read 9 times!