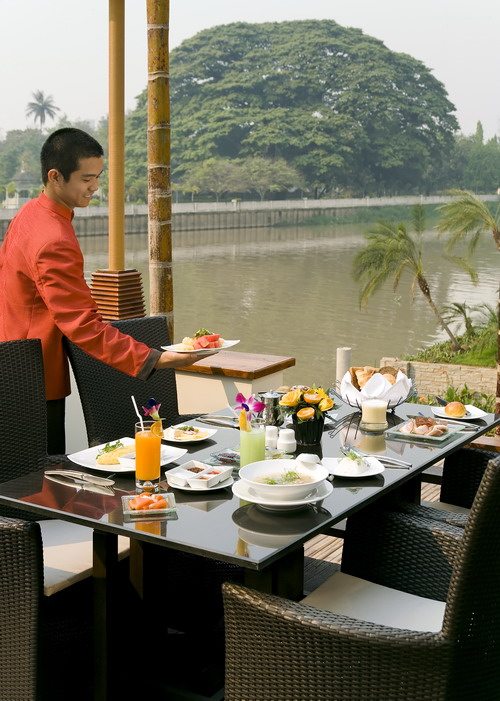 Continuing my 12 Reasons for a Golfing Holiday in Thailand, the first six of which were in the last 2 posts, here are the next three:
7.    Food. These days most people know how delicious Thai food can be and for many golfers in Thailand, enjoying local food is an important feature of their holiday. Nor need the food be highly spiced – it is surprising how many Thais do not eat very hot food. It is said that Thais live to eat, not eat to live and, in addition to local food, you can find a wide variety of other cuisines readily available, from specialities from around the region, to the best of western food. Surprisingly, the golf clubs often boast very fine restaurants. On most golf courses, at every third hole there is a shaded kiosk or gazebo. These charming little oases serve a wide variety of refreshments ranging from fresh fruit, soft drinks and beer, to hot dogs and fried chicken.
8.    Culture and Customs. Thailand is a unique country with its own identity. Very different from other parts of Asia, Thailand has never been colonized and thus retains a strong indigenous culture Feng Shui is the Chinese art of harmonizing the natural as well as man-made environment to bring good health, fortune and happiness to people around it. In Thailand, golf courses are designed using Feng Shui principles and other Thai religious beliefs. Thus, it is not unusual to see on a Thai golf course special "spirit" trees wrapped in brightly-coloured cloth, flower leis lining the fairways, and immaculately kept shrines, all combining to give an elusive mystical quality.
Thailand's vital and exuberant culture expresses itself through the natural graciousness, politeness and beauty of her people, which enhances the golf experience immeasurably. The Thais light-hearted and relaxed approach to life, mai pen rai, or "don't worry, be happy", makes the most difficult things easy to accept – even that 7 on a Par 3!
9.    Non-Golfing Activities. There is so much to do when you are not playing golf you will be spoiled for choice. From visiting the amazing temples and shrines, to the local night markets and street stalls selling everything imaginable, Thailand is truly a tourist magnet. Stunning beaches, beautiful waterfalls and mountains, international style shopping malls, world-class spa's, boat trips to idyllic islands, elephant trekking, the list is endless. For the single or the married traveller, in addition to golf there is something for everyone, which is quiet different from most destinations and golf resorts around the world.
The next post will round out my 12 reasons for a Thailand golf holiday article.
This post has already been read 17 times!