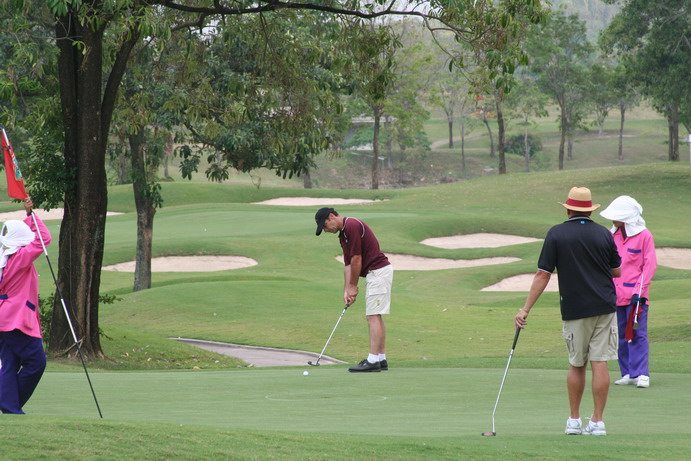 Here are the next 3 of my 12 reasons for taking a Thailand golf holiday this year.
4. Caddies. What better a way is there to golf on unfamiliar resort courses then with someone to assist you in reading greens, judging yardages, and alerting you of hazards? Not to mention having an assistant to help with the mundane chores of tending the pin, raking bunkers, and cleaning clubs and balls sure makes golf in Thailand one of the most enjoyable ways to play the game. Most Thai caddies are female. Generally, they are attractive, friendly, and polite and radiate pure feminity. Many golfers hire two or even three! With the caddies in their colourful overalls and sun-bonnets, your foursome turns into a colourful parade crossing the fairways.
5. Weather. What is the weather like where you are now? You can play golf all the year round in Thailand. Very rarely do you have to postpone a round because of bad weather. In the cool season, from November to February, the climate is superb. Light breezes, constant sunshine, great conditions for a golfing holiday. We locals enjoy June, July and August, since the weather is usually fine and our favourite haunts, including the golf courses, remain uncrowded. September and October can be wet, but fortunately the usual pattern is brief but heavy showers in the late afternoons only, with plenty of sunshine beforehand.
6. Destinations. How many golf destinations boast mountains, beaches, and everything in between? Thailand is a beautiful country and offers a number of totally different destinations to play golf. From the bustling capital of Bangkok, to the beautiful mountainous countryside of Chiang Mai and Chiang Rai. From the stunning beaches in Phuket and Koh Samui, to the bright lights and amazing nightlife of Pattaya. From the quieter seaside town of Hua Hin, to the waterfalls and stunning scenery of Khao Yai, Thailand has a golfing location for everyone. With all these choices the only thing to decide is what is best for you!
Learn about three more reasons for a Thailand Golf Vacation in my next post!
This post has already been read 11 times!