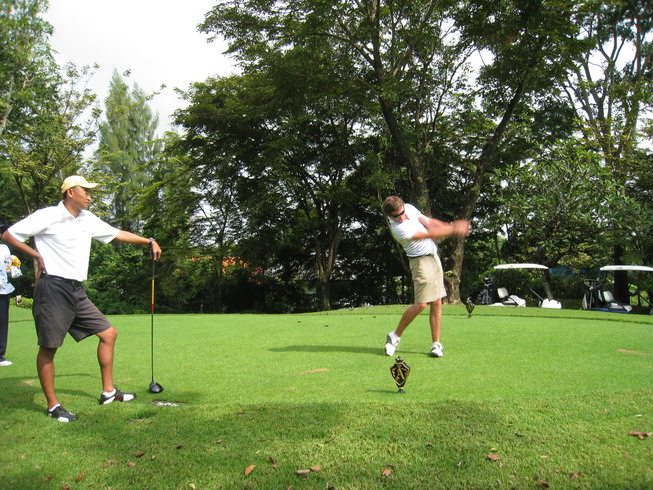 Before guests of my Thailand golf vacation company finish their golfing holidays here, I usually make a point of seeking out their opinion about their stay, what was good and what was not so good. This vital information helps me to continually improve our services, but also re-confirms to me what it is that makes Thailand so special as a golfing destination. Over the years I have distilled our clients' views into a Dozen Reasons for a Golfing Holiday in Thailand, the first three of which are in this post.
1. Value For Money. For any visiting golfer, Thailand provides great value for money. This is particularly important in today's trying global economic times. Ironically I am seeing an increase in Thailand golf holidays during these times as golfers from around the world discover the economic benefits (i.e. saving money) from a Thailand Golf Vacation as compared to all other worldwide premier golf destinations.  From the wide choice of hotel accommodation and golf, to shopping in the local markets or high class department stores, to the wide array of eating choices and night life, Thailand is remarkably cheap for the quality provided.
2. Golf Courses. Thailand is a golfer's paradise with over 275 superb golf courses providing a huge choice – and more, very high quality new courses continue to open at a rate of 1 per month. Whichever of the main golfing locations you visit, whether it be Bangkok, Pattaya, Phuket, Hua Hin, Chiang Mai or Kanchanaburi, you can play on championship standard courses, designed by some of the world's foremost golf architects. Almost all of Thailand's finest courses are open to the public. You won't need special connections or to be a member to play the best courses. In Thailand, you are welcomed with open arms, bright smiles, and affordable green fees.
3. People. Not for nothing is Thailand known as "The Land of Smiles". The Thai people are naturally welcoming and friendly. The quality of service and attention you receive is outstanding, and together with the wonderful hospitality, makes visitors want to return to Thailand again and again. In fact, this is the only place I know if that can even settle their own political unrest without any violence. Try that in any western or other nation!
Stay tuned, the next set of reasons for a Thailand Golf Vacation comes in my next post!
This post has already been read 16 times!