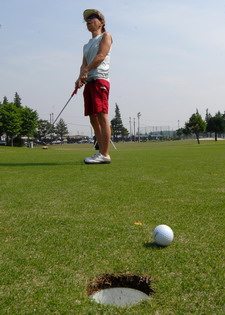 Here is a drill that will sure to brand you as "insane" among your Thailand golf buddies. The funny thing is the laugh will be on them when you take their money on the golf courses because of all the short putts you make and the ones they do not.
Most missed short putts on the golf courses in Thailand are the result of anxiety or lack of confidence rather than mechanics.  Have you ever stared down your putt and felt that the hole appears small and remote?
 A simple yet effective way to overcome this and create confidence in your stroke is to practice putting with tennis balls. That is right, this is Thailand (TIT) and anything goes so keep an open mind and give this a try.
 Take two tennis balls and two golf balls to the practice putting green on your next round of golf in Hua Hin and start with the tennis balls.  Stand one putter length away from the hole and stroke the oversized balls toward the hole until you sink five in a row.  If you miss, start over.
After you've aced your fifth consecutive tennis ball, put the tennis balls aside and putt with the golf balls.  The golf ball will seem like a marble and the hole a bucket.  On the golf course in Phuket you will sink a lot more of those three and four footers, guaranteed!
This post has already been read 10 times!