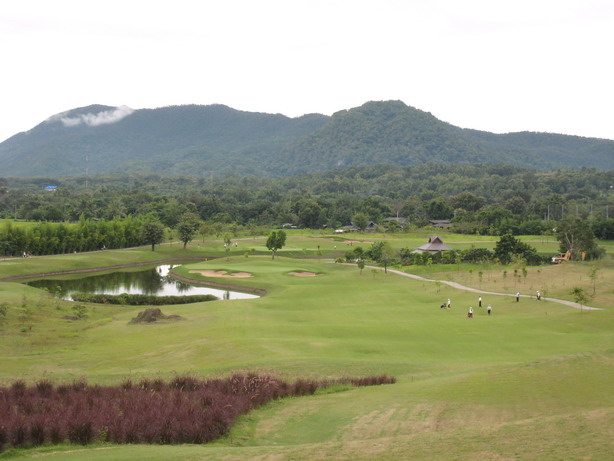 Here is a golf report from Chiang Mai by local resident Larry Fraser.
I first played here three years ago, and a large factor in my coming back for a few months each year is the golf. 
If you come to Chiang Mai in the "cool season" to play golf you will not be disappointed. Who could ask for more; playing in the refreshing air, surrounded by spectacular mountain ranges, and among some of the nicest people in the world?
There are about a dozen courses within 45 minutes of downtown Chiang Mai and they are all interesting.  Five are in excellent condition and very well designed.  The best are Alpine Chiang Mai, Chiang Mai Highlands, Summit Green Valley, Gassan Khuntan, and Mae Jo. The other golf courses are unique enough and worth a play or two. There are even a couple where for less than 10 Euros you can get in an enjoyable winter round of golf.
In addition to the aforementioned 18 hole layouts, there are also two 9 hole tracks; one of these being the oldest course in Thailand, even older than Royal Hua Hin!.
Gymkhana Golf Club is within the Chiang Mai city limits and was opened in 1898, making it one of the three oldest courses in all Asia. Nowadays, it falls in the lower category as far as condition because much of the fairways are like grassed-over hardpan, but seeing the enormous rain tree by the club house and the other huge trees overhanging some of the fairways gives it a unique and enjoyable atmosphere.  The other nine hole course, Hang Dong Golf Club, is about twenty minutes south of town and is quite agreeable, though not in the top most category.
There is also a 27 hole course right at the edge of town that falls somewhere in the middle group in terms of quality. It is the Lanna Sports Center and usually in decent shape. However, it has one design quirk where trees are frequently located so as to restrict your shot avenues from the tee or from portions of the fairway.  This course also has a modern driving range and several golf shops and restaurants, which is nice for warming up and cooling down, respectively.
If you have time, go on to Chiang Rai, warm up at the driving range by the old airport at the south edge of town, and play two of the best courses anywhere: Santiburi and Waterford Valley.  Santiburi will take your breath away in every respect.  It is likely one of the world's most practically designed golf courses in that any given hole will likely provide a risky way for a good golfer to try to shave a stroke while also furnishing the less skilled a longer route to avoid trouble.  The owner of the Singha beer company also owns the course and he keeps it in immaculate condition.
Now, get those sticks from the closet and get ready for some winter golf fun in the cooler reaches of Golf Amazing Thailand.
This post has already been read 10 times!