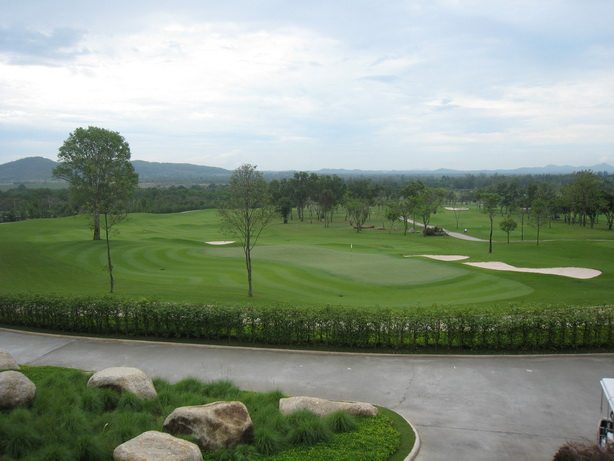 Here are the final 3 picks for playing the best "Twice As Nice" Thailand golf courses. Two are Pattaya golf courses and the final one is a Phuket golf course.
4. Siam Country Club is situated just 10 minutes from Pattaya.  The original Siam Country Club, built in 1971, is now called Siam Country Club Old Course, after a two- year renovation.  A traditional shot-makers layout, this is one of the more well known tracks in Thailand and hosted the 2007 LPGA Honda Thailand upon re-opening.  The new Siam Country Club Plantation Course boasts a more challenging design with 27 holes of tremendous views toward Pattaya and the Gulf of Thailand.  The course recently hosted the 2009 LPGA Honda Invitational and received high praise from the world's best lady pros. The same event is planned for February 2010. Both have very modern clubhouse facilities perfect for relaxing after the round.
5. Burapha Country Club is located about 30 minutes outside of the tourist friendly city of Pattaya.  The four nine holes are referred are Augusta, Belfry, Cypress and Dunes, referred to as A, B, C, and D.  The designers are famed architect Gary Panks and Australian touring professional and former US Open Champion David Graham.  All four nines offer scenic views, elevation changes, challenging greens and a mix of long and short holes.  Located just outside Pattaya I suggest staying at the Woodlands Resort, which provides an excellent choice for overnight fun in between playing all 36 holes.


6. Blue Canyon Country Club in Phuket is perhaps the most famed golf course in Thailand, due to its reputation as a venue for international professional tournaments such as the Johnnie Walker Classic.  A fabulous finish to the 1998 event witnessed Tiger Woods out due Ernie Els in a playoff ending with a breathtaking birdie on the 18th and a trademark fist pump for the ages.  The host Canyon Course is certainly more recognizable and provides many challenges faced by the world's best tour pros, including the signature downhill par 3 13th surrounded by a lagoon.  However, the newer Lakes Course is equally challenging, if not better. An overnight stay at Le Meridien Beach Resort will offer the opportunity to play two great courses and enjoy one of Phuket's only private beaches in between.
While Thailand has a few world famous golf courses of high profile and a number of favorites amongst visitors as well, the courses above offer something most others do not.  The chance to play two courses at one venue can be both unique and convenient.  The more ambitious players might try to take both courses on in one day.  However, in true Thai style, it is recommended to take your time and enjoy any of these 36 hole layouts to find out why they are "twice as nice"!
This post has already been read 28 times!