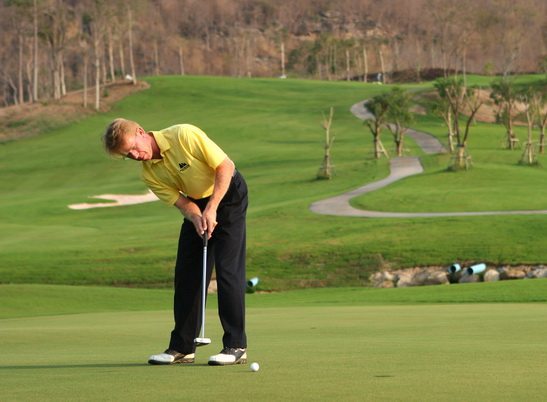 Can you believe it? Over the past 2 weeks I played Thai Country Club twice, and Banyan Golf Club and Black Mountain Golf Club once each without a single three-putt. Here are the two steps how I did it.
1. Three years ago I took some lessons form an Australian golf professional in Bangkok. At that time he insisted that I go for every green every chance I had, as a lay-up shot would never get the ball in the hole. After following his advice ever since and thinking about it some more, I decided that this approach is better left to the professional golfers and not for me.
In my latest 4 rounds of golf in Thailand, instead of going for every green I decided to lay-up anytime I had more than 175 yards to the green. Then, instead of having very long putts, or worse terrible lies in those high lipped greenside bunkers at Black Mountain and Banyan, I was able to position my ball 50 yards or so safely in the fairway and on the "easy approach" side of the green. This all but assured me of a simple chip close to the hole and a one or at worst two-putt.


2. When I did have the rare long 20 to 40 foot putt, I focused on lagging my ball near the hole instead of holing the putt. Lag putting, as opposed to charging the hole only required me to gauge distance to get within 5 feet of the hole every time. I walked off the putts myself since my stride is very repeatable.
Controlling ball speed is a simple matter of stroke length. To get the ball close I changed my stroke length while maintaining the same rhythm on each putt. For me, when I take my putter head back to my right foot the ball goes about 20 feet.  When I take the putter back until my hands are even with my right foot, the ball travels around 30 feet. To get a 40 foot putt to roll the correct distance requires a slightly longer back swing. For in-between distances I concentrated on taking the putter back a little farther or a little shorter. This worked perfect every time; an easy 3 or 4 foot putt sunk again and again!
I will bet anyone a round of golf that if you implement both suggestions, you'll also cut down on how often you three-putt when golfing in Thailand. Give them a try and let me know how it works for you!
This post has already been read 13 times!