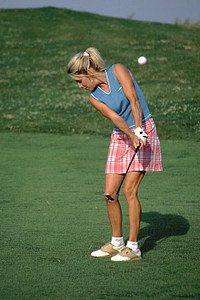 In recent golf matches I have played in Thailand I've noticed that a great many of my opponents use their sand or pitching wedges exclusively to play all their shots from off the edge of the green. There are times, of course, when the must play shot is a lofted little pitch calculated to drop near the pin and expire there with as little run as you can manage.
But in Thailand golf there are many more times, particularly when the pin lies to the rear of the green and there is a lot of room between your ball and the flag stick, when the most efficient and reliable shot to play is the good old boring chip and run. While not as glamorous as the fashionable flop or lofted pitch played by the professionals, it certainly is easier to execute and will ward off those dreaded doubles or triples that are recorded from inconsistent short game play.
I just calculate how far I want to hit the ball in the air so that, after landing, it will have the legs to roll right up to the stick.
I used this chip shot predominately in my last round at Subhapruek Golf Club and I saved at least 3 shots by getting up and down in 2 and more importantly, never topping the ball over the green nor chunking one that would have left me in more or less the same position for a do over. You really can't go very wrong with this shot.
I play this run up with any iron from the four through the nine, depending on my lie, the speed and the contours of the green and total distance to run on the green. More times than not I press my seven or eight iron into service for this handy shot.
To play this shot well and consistently well, I try to use the swing thought of keeping my head down and pacing my swing just as I do on a regular shot. I contact the ball and the turf at almost the same time, taking just that little amount of turf in front of the ball that gives me the sense of making contact with it. I can get some bite on this shot when I play it like this.
Other times when trying for longer roll, I also keep my head down, but intentionally hit the ball cleanly, without taking any turf. In this case, I minimize the in air ball flight and maximize the roll with the ball staying on the ground practically all of the way to the pin, and leaving me with an easy short par or birdie putt.
Give this old reliable chip and run a work out on your next round and you will definitely see some of your worst nightmare chip shots evaporate, and more importantly those one or two blow up holes caused by poor short game play will all but disappear form your score card!
Let me know how this tip works for you by posting a comment here or if you prefer drop me a line at my Thailand golf vacation company.
This post has already been read 9 times!