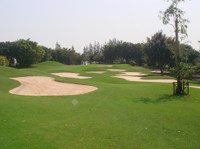 Here is a great write up from a Bangkok Thailand golf pro who has just played Alpine Golf and Sports Club for his first time.
Constructed in 1996 and probably the only one of Bangkok's golf courses that can claim to be hilly, Alpine golf is one of only a handful of member's only club's in Thailand. Alpine golf has already achieved international recognition by hosting the 2000 and 2004 Johnnie Walker Classics won by Tiger Woods and Miguel Angel Jiminez, respectively. The Par 72 layout ranges from 5140 yards (ladies) to 7,100 yards (championship) allowing every standard of golfer to enjoy this spectacularly beautiful course.
With contouring a feature of every hole, the gloriously maintained treed-lined fairways and well-defined lakes make you want to hit a ball from the tee. It is very rare to find a course where every hole presents itself clearly and fairly to the golfer, but this is very definitely the case at Alpine. Risks can be taken and, if pulled off, well rewarded. But, they can also land a golfer in a world of trouble. This makes for a great challenge.
The peace and tranquility of the course make for a very nice change from the hustle and bustle of downtown Bangkok Thailand and the fresh air is also very welcome.
One word of warning – the greens are very very quick and, whilst this is not immediately apparent when looking at a distance of 150 yards or so, the rolling greens make for extremely hazardous downhill putts. Three putting is very common after a misdirected second or third or fourth shot. Take care!
Alpine Golf and Sports Club in definitely the best course in Bangkok, if not all Thailand. Every serious golfer has to consider Alpine Golf a 'must play' venue….. Enjoy!
If you would like any more information on Alpine Golf and Sports Club please post a comment or contact me at Golfasian
This post has already been read 33 times!