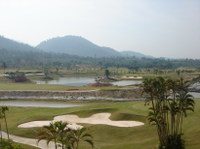 Here is the final post in my Chiang Mai golf overview, otherwise known as the three 'Gassans':
Gassan Khutan Golf Club and Resort and Resort is located one hour south of Chiang Mai. Khuntan means "Devil Mountain' and this 18-hole, 7,100 yard, par-72 course created in 2004 is devilishly difficult. When you stand on the tee of the par-3, 5th hole and face a mid-iron shot to a tiny island green, in the middle of a huge lake, into the teeth of swirling winds, you will know why this course is aptly named.
The extraordinary Gassan Lake City Golf and Resort, fifteen minutes south of Chiang Mai, is an 18-hole, 6,400 yard, par-72 beauty. Designed in 2005 by Gassan's owner, noted Thai architect Pravit Reang-Po, it is a target golf and risk-reward layout. There are water hazards on every hole and whilst many of the par-4's can be driven, danger lurks. The short approach shots to the greens demand precision and proper placement so Lake City rewards thoughtful play over pure power.
Gassan Marina Golf Club and Resortat 7,600 yards is the longest course in Thailand, with all 18 holes being designed around the contour of the largest lake in Chiang Mai. Add in plenty of waterside bunkers, a backdrop of mountains, lush greenery, and you have a stunning vista to complement the golfing challenge. You will enjoy winding down in the luxury club house, which mixes European and Arabian architecture. Gassan Marina Golf Club is about 20 minutes drive from Chiang Mai International Airport and the city center.
Last, but not least, I cannot leave Chiang Mai without mention of the Gymkhana Club Golf Course, located right in the middle of Chiang Mai City, only 5 minutes from the night bazaar. Created in the early 1900's and claimed to be the oldest course in Thailand, this 3,000 yard, 9 hole old-style course features large oak and monkey pod trees and native cow-grass fairways. An oasis of fresh green, it provides overseas travelers with a step-back in time. The homey clubhouse is set beneath a magnificent monkey pod tree that many believe is the oldest in Chiang Mai. After golf, enjoy traditional Lanna cuisine, song and dance, and shop for souvenirs of silk, silver and wood handicrafts.
I hope everyone gets a chance to visit Chiang Mai, sample the northern Thai Lanna culture, and play at least a few of the variety of great golf options that are now available. If anyone has any good Chiang Mai golf stories please feel free to post here or send me an email at my Thailand golf vacation company.
This post has already been read 24 times!