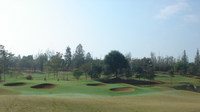 Here is the third post in my Chiang Mai golf overview. Today I will finish discussing the most traditional northern Thailand golf courses and start mention more modern and recent additions to the Chiang Mai golf scene.
The older courses also include the Royal Chiang Mai Golf Resort, designed by 5 times British Open winner Peter Thomson using elements from a British links style course. The Royal Chiang Mai also features bumpy gently rolling fairways, pot bunkers, and closely mowed areas around the greens. Also, there is the Chiang Mai Green Valley Country Club, a Dennis Griffiths designed course situated in the lowlands and only 20 minutes from downtown Chiang Mai. Green Valley's 7,200 yards of lowland heat and humidity, tough water hazards on every hole, plenty of bunkers, and few trees, offers an unusually tough challenge.
More recently constructed Chiang Mai golf courses include Mae Jo Golf Club. This beautifully designed 6,700 yard, par-72 layout has been sculpted from fertile orchards in the foothills 20 minutes north of Chiang Mai. Its lush, narrow fairways slither through the sweetly scented mango, citrus and lychee trees. Check out the stunning vistas from the 15th tee!
The Chiang Mai Highlands Golf Resort near Sankampheng's Hot Springs is 45 minutes east of Chiang Mai. This par-72, 7,000 yard course was opened in late 2005. Built on a 'power spot' – the hermitage of Kuba Sivichai (the revered monk who founded the famous temple on Doi Suthep), this very special site is breathtaking in every direction and literally tingles with an energetic aliveness. Locals believe that these sacred spots, found for the most part in Asia, continue to radiate energy long after their initial inhabitants have move on. I know that I welcome take any help, spiritual or otherwise, I can get for my game! If you only have one day to golf in the North, play Chiang Mai Highlands, spirits aside, it is now by far in a way the best course in all northern Thailand.
Tomorrow I will finish my Chiang Mai golf course summary with a discussion of the newest additions, the three Gassans! If anyone has any good Chiang Mai Thailand golf experiences, please let me know by commenting here or drop me a line at my Thailand golf vacation company.
This post has already been read 11 times!