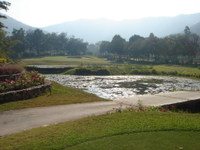 Here is the continuation of my Chiang Mai golf overview. For the next 2 or 3 posts, starting with the most traditional northern Thailand golf courses and going all the way through to the most modern championship Chiang Mai golf courses, I will review each golf option and, hopefully, convey the range of available area golf choices.
Chiang Mai is also known as the 'Land of a Million Rice Fields', and that is certainly your first impression as you ride out from your hotel to the golf course. The two courses which reflect best the traditional Chiang Mai golfing terrain are Chiang Mai Lamphun Golf Club, a championship course (yes there reallywere several held there over the years) , designed by Dr. Sukhum Sukapanpotharam, situated in the heart of the beautiful valley 30 minutes east from Chiang Mai and Lanna Sports Club, located only 10 minutes from downtown Chiang Mai.
Chiang Mai Lamphun Golf Club is set a nature sanctuary in the foothills, amid an enchanting forest of golden teak trees. This 18 hole, par 72, 7,022 yard masterpiece, the official venue for the 18th Southeast Asian Games in 1995, meanders through breathtaking landscaping, mature forest, radiant flowering flora and across refreshing streams, ponds and lakes. The signature 9th hole requires an exacting tee shot to be placed between two water hazards lining the fairway and the demands a long iron shot to carry over a big pond on to a sloping green. It is one of my favorite Chiang Mai golf courses and must not be missed by any northern Thailand golfing visitor.
Lanna Sportrs Club, a lovely 27-hole course, adjacent to the race track, offers three distinctly unique design styles, with panoramic views of Chiang Mai's famed Doi Suthep temple on the mountain top to the west. The golf course winds through impressive boulevards of huge mature trees, skirts many large lakes and ponds, and criss-crosses numerous bubbling streams and canals. It is renowned for its cadre of skilled and lovely caddies. Lanna Sports Club, especially in the afternoon, is old Thai-style golf at its best.
Tomorrow I will finish the traditional northern Thailand golf course summary and move into discussing the more modern golf courses in the area. If anyone has any good experiences or would like to add anything about Lanna or Lamphun, please let me know by commenting here or drop me a line at my Thailand golf vacation company.
This post has already been read 10 times!