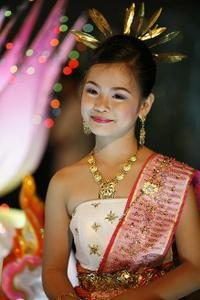 The next several posts will focus on Chiang Mai in the north of Thailand. In the past perhaps, this has not been the most obvious Thailand golf destination but, now, with the addition of some fine new courses, bringing the number from which to choose to ten, you should definitely consider it for your next Thailand golf tour.
The first thing to understand is that the north is distinctly different from anywhere else in the Kingdom. The region bordering Laos in the east and Myanmar in the west is home to Thailand's earliest civilization and there are still several ethnic hill tribe peoples with unique cultures, traditions, language and cuisine.
The northern people are kind-hearted and generous and very polite and the women are noted for their beauty, charm, and hospitality. Chiang Mai has grown from its origins as a small northern Lanna capital and is now easily accessible.
The region is blessed with abundant natural wonders, including renowned national parks and the most famous and highest mountain range in Thailand – Doi Inthanon in Chiang Mai – along with other 'doi' including Doi Suthep. Because of this, Chiang Mai is one of the locations where we locals escape to when it gets rather hot in Bangkok and the south. For example, today a cold front blasting in from China has dropped overnight temperatures to nine degrees centigrade!
The north has the most beautiful winter season in Thailand. At this time of year, cool-climate flowers are all in bloom, coloring the misty mountain ranges all over the area, especially in the province of Chiang Mai, which is known as the 'Rose of the North'. From November to February the area becomes a spectacularly exotic and romantic place to go.
There are direct flights from Europe and cities around the Far East, in addition to the hourly flights from Bangkok. The airport is 15-20 minutes journey from downtown Chiang Mai. It is also possible for golfers to make the 700 kilometer journey overnight from Bangkok on the first class air-conditioned sleeper train, arriving fresh for an early morning round of golf.
Tomorrow I will continue by starting to discuss the various Chiang Mai golf options as well as covering some common questions about playing golf in northern Thailand. If anyone has any specific questions, please let me know by commenting here or drop me a line at my Thailand golf vacation company.
This post has already been read 11 times!