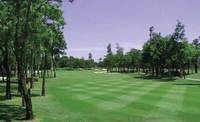 The Pete Dye designed Subhapruek Golf Club is one if Bangkok's hidden gems and my favorite courses near town. While perhaps not in the top 3 or most famous courses (TCC, Alpine, and Navatanee), Subhapruek is just behind in terms of course quality and challenge. It is rarely included of golf packages or played by visitors due to the booking difficultly, only Thai language is spoken.
Subhapruek plays in the shadows of Assumption University, which make for an interesting back drop. The course opens with a long Par 5, prey rare in itself, which demands a good tee shot to kick off the round and avoid the large right side waste bunker on right and OB left. I guess this is where a first hole mulligan often comes into play!
The Par 3 second is the most difficult of the 4 Par 3's. This 172 yard hole requires not only a long carry of water, but also a deep bunker fronting the green. At least 90% of the tee shots and 100% of those with a slight fade end up wet, well short of the green. Take an extra club, or two, to be sure to carry the water.
The 3rd hole also requires a carry over water. However the straight fairway shot into the green makes the hole on of the easier ones at Subhapruek. Holes 4-7 are also a relief from the more difficult opening holes, allowing for some good scoring.
Subhapruek Golf Club's 8th and 9th are almost identical and are as good a pair of holes as anywhere in Thailand. Both feature right hand doglegs, with water running down the entire left side of and in some places into the middle of each fairway. This design has killed many a good round, by turning otherwise good shots down the left side into wet results!
The Subhapruek back nice is as equally demanding as the front, however the challenge builds from the easy dogleg 10th to the par 5, 15th. On the other hand, the last 3 holes, are as good a finishing trio as any golf course in Thailand. All three demand extra concentration to avoid successive bogeys, or worse!
Number 16 is a 146 yard par 3 to a small island green, with almost no margin for error and making club selection critical. Then, if this is not enough, 17 and 18 play around the right and left sides, respectively of a large lake with manmade waterfall. The 17th is only 346 yards from tee to green, but also demands careful club selection and exact placement off the tree to avoid water on the left and hitting through the fairway if going straight. The final hole, index 1, 461 yard, 18th hole is almost impossible to par. Even a well hit drive will require a 200 plus yard, second shot that demands all carry over a series of bunkers in front of the green and water to the left. The better play is to lay up right and then go for a chip and one putt to hole out and finish Subhapruek Golf Club in par!
If anyone has any good tips for playing at Subhapruek Golf Club, please feel free to comment here or if you are a golfing Thailand and would like to get in a round at this great, less popular course, just drop me a line at my Thailand golf vacation company.
This post has already been read 21 times!