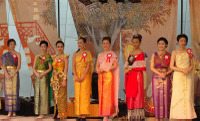 If you are thinking of a Thailand golf trip in next few months, why not aim to be here in April and join in Thailand's Songkran Festival. Songkran is the Thai New Year celebration which starts on April 13, when the sun moves into Aries. This national holiday customarily lasts for three days, and even longer in Chiang Mai and Pattaya. The word 'Songkran' originates from the Sanskrit meaning 'beginning of the solar year'. So, the holiday-loving Thais get to celebrate New Year three times each year: the Western New Year on January 1, the Chinese New Year in February, and the Thai New Year in April.
Traditionally, Thais visit temples at this time of year to offer food to the monks and to participate in bathing ceremonies for Buddha images. Another custom is the releasing of small fish into rivers and canals. This merit-making act is thought to come from the old practice of collecting small fish from dried out pools, to keep and later release back into the wild.
These days, during Songkran festival most people throw water on one another to keep cool and have fun. It is the one time of year where the Thais and visitors freely mix together and let their hair down, so to speak. Whatever part of Thailand you happen to be in, you can go out on the streets and enjoy the good fun. But watch out, and keep your cool the first time you get wet!
Bangkok is at its quietest at Songkran, as many of the Thai revellers have gone back to their upcountry homes for the long holidays. The roads are remarkably traffic-free and this makes for a golf holiday with super easy highway access to even the normally difficult to reach golf courses. Most of the action in the city is concentrated at places like Khao San Road, and traditional celebrations are held near the Grand Palace, with bathing of the sacred Phra Buddha Sihing image. A Miss Songkran contest is held in the Wisutkasat area, accompanied by merit making and entertainment. All of these places make for great fun after a morning of golf. Motor car enthusiasts and who are in Bangkok this year can also take in the Bangkok International Motor Show. In and around Bangkok, you should book your tee times early as many expatriate golfers escape the mayhem in the city with a round of golf although, even on the golf course, you may well get a dousing of water from your smiling caddie in good fun!
In Chiang Mai and Phuket you can also find good golfing conditions combined with local Songkran festivities. In the Patong Beach area everyone gets into the act with huge water pistols, buckets and hoses. But, probably, the best golf and wildest Songkran celebrations can be enjoyed in Pattaya, where it coincides with the Pattaya Festival.
Each year Pattaya puts on a week long festival of music, dance, beauty contests, parades, sandcastle contests and partying. Some of the Pattaya courses get into the act by sponsoring tournaments and offering specially priced green fees.
This year's event kicks off on April 12. Besides golfing each day, you can in the afternoons and evenings watch lovely ladies compete for the title of Miss Pattaya Beach, and listen to some of Thailand's best musicians at free open-air concerts. The festival is promotes Pattaya tourism, and includes golf and other sporting competitions like go-kart racing, windsurfing contests and a colourful regatta. The parties, concerts, sound and light shows and fireworks displays on the beach, coinciding with Songkran, make the week long Pattaya Festival a special time to visit Thailand's most famous resort destination. Now with over thirty golf courses to choose from, including the Jack Nicklaus-designed Laem Chabang International Country Club, one of the best in Thailand, April is a great time and Pattaya an exciting place for a golf tour.
If anyone would like more information on golfing in Thailand during Songkran or have a specific golf trip that they are thinking about let me know by sending me an email at my Thailand golf vacation company. I would gladly put together a custom Thailand golf vacation package to fit any budget or length of stay so as many golfers as possible get expoure to this unique Thailand holiday.
This post has already been read 16 times!