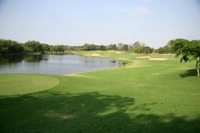 In response to several readers' comments doubting the intention of this Thailand golf blog, I thought it good to finish my writing on value golf and review a golf course that I just plain enjoy, and one which my Thailand golf vacation company does not have any commercial dealing with.
No doubt about it, 600 baht (approximately $17 US) for weekday green fee at Bangsai Country Club is a bargain and this course is a real treat. The clubhouse is most unspectacular, but if you don't mind that and have come to play golf then you'll be in for a pleasant surprise.
It takes about 70 minutes to reach Bangsai Country Club from Bangkok and you need to be sure you know where you are going, because finding the course isn't easy, especially if it's your first time and you are running close to your appointed tee time. Speaking of tee times, here is an insider's hint! They are relatively easy to come by and even if it's full, the starter will most likely get you out if you smile and ask nicely. Fifty baht does not hurt either, everyone does it and although it causes slow play, TIT!!!!
Course conditions are generally excellent, much better than the inexpensive green fee might suggest. The only real complaint would be that sometimes off the fairways, the rough is little rough around the edges (no pun intended), like some municipal courses in the USA. The greens are better than average, not super fast but they roll true. If you navigate properly over the undulations and large breaks you will be happy with the results. All of the tee boxes are flat and level and the grass is cut sufficiently so that you can tee the ball easily.
The real beauty of the course lies in its design, one of the most unique and varied in Bangkok. The only real 'nothing hole' is the first, but other than that, there's some excellent holes, including the 2nd which is my favorite par 4 in Bangkok. Every other hole on the course offers up something different.
There is a humongous waste area separating the 3rd and 4th and 5th holes that reminds me of a Scottish glen and is a feature I have never come across on any other golf course in Asia. The waste area comes into play often and makes these 3 holes, taken together, one of the best challenges around from a series of holes. The waste bunker is far enough off the 3rd fairway, that if you happen to get yourself in there, you deserve to be penalized. It comes into play more often on the 4th, a short par 4, and its longer par 4 sister, the 5th. On these 2 holes the waste area juts right into the fairway in a blind manner and catches many otherwise good tee shots. Even having said that, its very possible you will have a good lie in this sand/waste area and be able to play a reasonable recovery shot.
The Par 3's are all great holes, varying in length, design and shot strategy. The par 5's are all reachable in two from the white tees for longer hitters, but they require two good shots to give yourself a chance at birdie and you can easily make a bogey if you're not careful and/or play a bad shot. Water and hazards are prevalent, although not so much so that higher handicappers will have a hard time.
For an inexpensive day's golf, Bangsai Country Club can't be beaten. It's without a doubt the best value for money in Bangkok and one of the best course designs in Thailand. If anyone has any best value course favorites, please let everyone know by posting a comment here of if you prefer send me an email at my Thailand golf vacation company and I will take care of the posing duties.
This post has already been read 23 times!