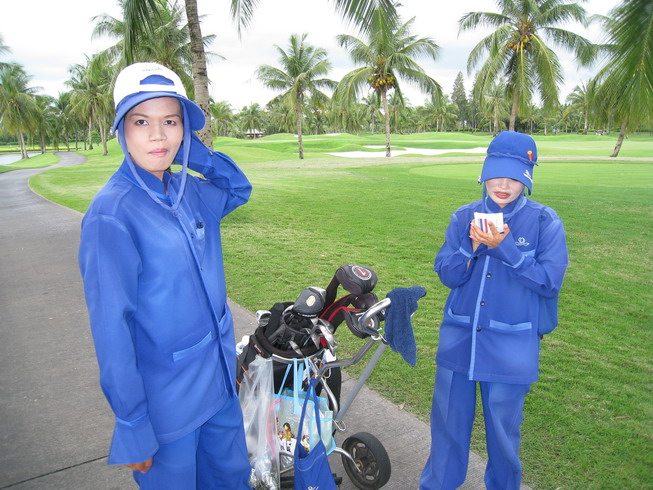 Here is another post from our roving golf reporter in the USA, Mr. Andy Harris.
Ok, ok. I know, there are many reasons to love golf in Thailand. The courses are fabulous (many have held European and Asian Tour Events); the clubhouses are positively palatial; the golfing conditions are universally good; the weather is fine year round; the after round massage is a delight and all this for a fraction of the cost in the USA or Europe.
Still, my favorite part of the Thai golf experience without doubt, are the caddies. First there is the anticipation when you arrive at the course. As a rule the vast majority of caddies are females under 35, five feet tall with wonderful smiles. When you get to the course they will be waiting. Like staff anticipating the lord's arrival at the manor, the caddies will be lined up in their colorful uniforms, expecting to do their duty.  As you step inside the clubhouse, you hope (I have to admit) that the caddie that gets your bag not only will be a great reader of greens but also will be pleasant to look at. After all you will be spending the best part of the day taking on 18 holes together.
With your bag in safe hands, you head to the luxurious locker room to prepare for the round. After slipping on your shoes and slopping on your sunscreen you step outside to your golf bag and caddie partner for the day.
As a rule I like to walk whenever possible, and it is mostly always possible when golfing in Thailand. Without the weight of a heavy bag to worry about, an umbrella in hand (to ward off the sun's rays) and pleasant company for the day, it's a very enjoyable walk. I have to add here that if you find the weight of the umbrella too much, it's very easy to hire a second caddie. And after further thought, if you feel that you would like to have a third caddie just to carry the portable chair you brought for rest between shots, that's ok too. Caddies cost about $10 for the round plus tip, so this will not break the bank (compare that to Scottish and Irish caddies that are 5-10 times more expensive, not nearly so pleasant to look at and more difficult to understand in most cases)!
This post has already been read 15 times!