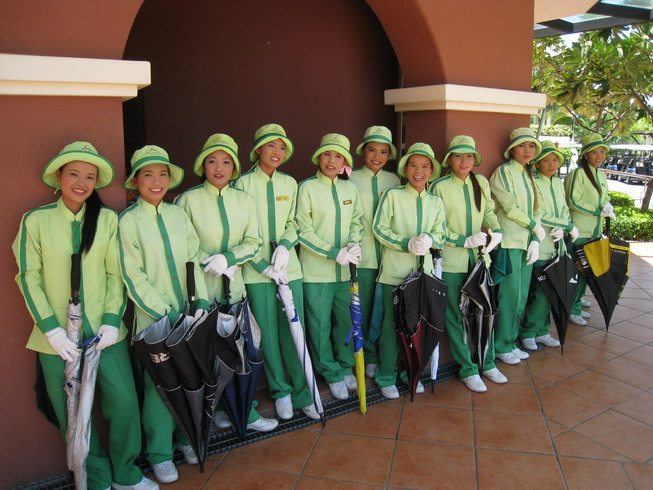 More from our roving golf reporter in the USA, Mr. Andy Harris.
Golf with a caddie is the most enjoyable way to play golf. To have the best possible experience and get the most out of your rounds with your Thai golf caddies, I'd like to offer six helpful tips:
1.    First and most importantly, establish a rapport with your caddie quickly. Ask your caddie her name, tell her you're going to have fun today, smile and generally have a positive attitude.
2.    Figure out early on if your Thailand golf caddie is any good at reading greens. Accept her early reads and see how she does. If she is off (and they are human so they can make mistakes) laugh about it and make a mental note to rely more on your own judgment for the rest of the round. As an aside, it never ceases to amaze me how often experienced golfers who are very successful business men become completely helpless and rely on their young female caddies for every decision on the golf course – someone they probably wouldn't even allow to make the tea in their office.
3.    Never blame your caddie for a poor shot, bad read or incorrect club selection. They always do their best and hey, you're not that good anyway. I've seen 18 handicappers at Blue Canyon Country Club yelling at their caddies for what they considered bad information (and they can't hit it anywhere close to where they were instructed anyway)  – it's not going to change anything and you just make a fool of yourself in front of your playing companions and other caddies.
4.    Understand what your caddy means.  Frequently what they say and what we understand are two different things. For example, where they say a putt is "right", it does not mean it will go right. They mean it is "right to left". They often will confirm this with a hand gesture, so it's important to work this out – otherwise you won't be making too many putts that day!
5.    Once you find a caddy you particularly like at a golf course, get her number (no not her cell number), her caddy number. When you play that course again you can book your favorite caddy in advance for your round.
6.    Always tip fairly. The average tip is 300 Thai baht (less than $10). And if your caddy was especially good you can tip 500 baht or more. Still only $14 for a wonderful experience.
Very few of us golfers have the opportunity to enjoy a round of golf with a caddie. Either they are not available at the courses we play or when they are, they are too expensive. One of the best things about golf in Thailand (in my view the best) is the chance to play golf, lots of golf, with your own caddie at every golf course. All for minimal cost compared to anywhere else in the golfing world. No wonder they are called Thailand's "secret weapon".
This post has already been read 31 times!