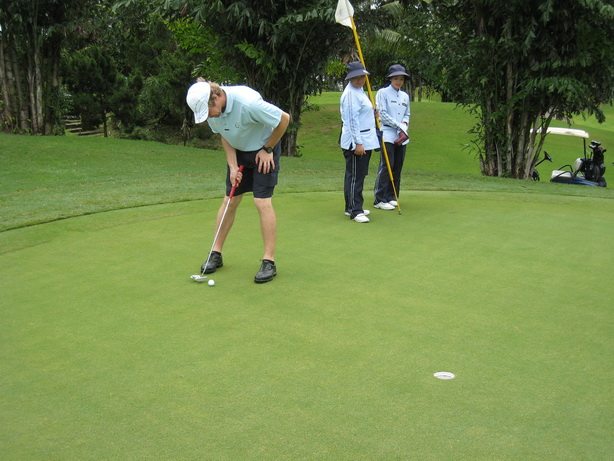 When golfing in Thailand remember these 5 simple points of golf etiquette and everyone will be assured of a satisfying golf experience. The overriding principle is that consideration should be shown to others on Thailand golf courses at all times.
 
1. The Spirit of the Game in Thailand
Unlike many sports, golf in Thailand is played without the supervision of a referee. The game relies on the integrity of the individual to show consideration for other golfers in Thailand and to abide by the rules of golf. You should conduct yourself in a disciplined manner, demonstrating courtesy and sportsmanship at all times, irrespective of how you are shooting. This is the spirit of the game of golf in Phuket and all golf destinations in Thailand.
2. Safety for Golf in Thailand
When golfing in Thailand, you should ensure that no one is standing close by or in a position to be hit by the club when you make a stroke. You should not play until the players in front are out of range, especially at the best golf courses in Pattaya such as Siam Country Club.  If you hit a ball in a direction where there is a danger of hitting someone, immediately yell (not whisper) FORE, even when playing golf with Thai golfers who speak Thai.
3. Consideration for Other Golfers in Thailand
Always show consideration for other players on the Phuket golf course and do not disturb others play by moving, talking or making any unnecessary noise.  Thailand golf visitors should ensure that any electronic device taken onto the course does not distract other players. TURN OFF YOUR CELL PHONE ON THE COURSE!
4. On the Putting Green in Thailand
Do not stand on another player's line of putt or cast a shadow over the line of putt, especially when playing golf in Hua Hin during twilight hours. Remain on or close to the putting green until all other golfers in your group have holed out, even at courses like Santiburi Samui Country Club where the green to tee distance can be quite long.
5. Pace of Play of Golf in Thailand
Play at good pace and keep up with the group in front of you. It is a group's responsibility to keep up with the group in front. If you fall behind  by a full hole and it is delaying the Thailand golfers behind, then invite them to play through. If all golfers follow this simple guideline, then all Thailand golfers will finish their rounds in approximately 4 hours, even on crowded courses like Panya Indra in Bangkok.
Keep these tips in mind and everyone will have fun golfing in Thailand.
This post has already been read 10 times!