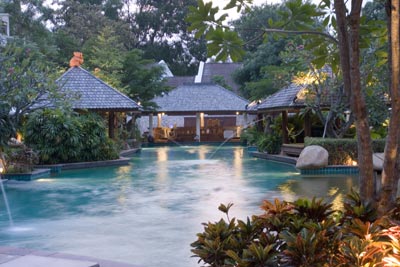 'Golf in a Kingdom: The Thai Golf Experience' is just a month old but already having an impact. Another luxury hotel property has joined and the region's top pro tour has again put a Kingdom track on its schedule.
Last week, the distinctive Woodlands Hotel & Resort Pattaya became part of 'Golf in a Kingdom', which launched in June as an itinerary and golf-travel resource that matches Thailand's top golf courses with its most desirable hotels.
Also, the Asian Tour has tapped 'Golf in a Kingdom' member course Santiburi Samui Country Club as host venue of the inaugural Queen's Cup tournament, Aug. 13-16. Santiburi Samui CC is a dramatic layout that deftly traverses a jungle of towering coconut trees on gentle slopes of Koh Samui's picturesque Khao Pom Mountain.
"The Asian Tour's coming here is further proof that playing 'Golf in a Kingdom' means playing the best," said Folke Nyberg, director of golf at Santiburi Samui CC. "We've got a little work to do on the event set-up side, but the course is ready — it's in championship condition every day of the year."
Woodlands Hotel & Resort Pattaya is the Kingdom's first upscale lodging option in the resort hub of Pattaya and the seventh hotel overall to join. It's set in a quiet beachfront locale just north of town, amid manicured tropical gardens and in close proximity to Siam Country Club, a 36-hole, championship venue (its Plantation Course hosted the 2009 Honda LPGA Thailand).
Among the other first-class accommodations in the 'Golf in a Kingdom' portfolio are: Anantara Phuket; Bangkok Marriott Resort & Spa; Anantara Golden Triangle; Anantara Hua Hin; Anantara Koh Samui; and Hua Hin Marriott Resort & Spa.
"The Kingdom's hotels comprise an elite group," said Stephane Bringer, the resort's general manager. "We fit into that collection by offering the same level of style, comfort and service as the rest. But, of course, we do this Pattaya and this beautiful beachside city is something no golfer on holiday should miss."
The Asian PGA Tour has stopped at 'Golf in a Kingdom' courses before — at the prestigious Thai Country Club six times, and at Santiburi Chiang Rai in 2008 for the Singha Thailand PGA Championship.
Other golf venues in the Kingdom lineup include: Muang Kaew Golf Club in Bangkok, Chiang Mai Highlands Golf & Spa Resort in Chiang Mai and Banyan Golf Club in Hua Hin.
To make travel plans for a tour of 'Golf in a Kingdom', visit www.golfinakingdom.com, or send email to info@golfinakingdom.com
This post has already been read 14 times!