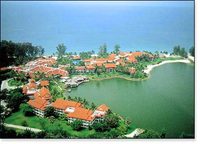 For beach resorts such as Pattaya, Hua Hin and Phuket, then there is a huge choice of accommodation available. In Phuket in particular, there are many stunning resorts located on the shore of the many beautiful beaches, which can be a totally idyllic and relaxing way to spend your holiday. Obviously, they are at the higher end of the price scale, and equivalent properties away from the beach will be less expensive.
Luxury beach resorts such as the Laguna Phuket shown at left with it's excellent and accompanying golf courses are available for as little as $125 US per night, while off beach 4 star accommodations can be found for as little as $75 US per night. Obviously, these prices will vary depending on the season, November to April being the most expensive high season, and when advanced booking is required to avoid the disappointment of your selected hotel being unavailable.
In non beach resorts such as Chiang Mai or Kanchanaburi (River Kwai) , again there will be a wide choice available, but more often a different style of hotel to the beach resorts. Here you will find more 'Thai' style accommodation, designed and incorporating the local culture.
Location of hotels in these areas tends to be less important than in Bangkok, due to the easier access to golf courses. However, consideration should be given to how close they are to local amenities, and for your desired relaxation in the evening. For example, many people like a short walk from their hotel to enjoy the various restaurants and night markets, whereas other may require a more remote and private location, where than can have all the facilities within the hotel or resort. In general, these destinations also tend to be the least expensive in all Thailand, with excellent accommodations being available in the low season for less than $50 US per night.
Other things that may be important to non-golfers and families, such as facilities for the children, swimming pool etc, may not be as important to singles. For singles traveling to Thailand, you may wish to check if the selected hotel allows has a flexible guest policy and how they handle in-room visitors. Some hotels do not allow this and others will apply a surcharge which you should be aware of. You are better to know this in advance than be disappointed upon arrival.
These are some of the many factors to be taken into account when selecting your preferred accommodation. Nowadays, the internet is a good place to start and some wholesalers may advertise prices below those mentioned here. However, only an expert local agent will be able to provide you with specific golf and up-to-date hotel information. Be sure to inquire about and understand each agent's payment, deposit procedures, and cancellation policies, redress in the event of problems. In addition, local operational infrastructure is an absolute must to handle daily needs as they arise (something always seems to come up unexpected in Thailand) and as part of your accommodation selection your chosen agent must be willing to take full responsibility for the total success of your golf holiday vacation.
I hope you have found this post informative and useful. If you would like any more information, please feel to post a comment, or if you prefer I can also be reached directly using this pre-made email form from my Thailand golf travel company.
This post has already been read 13 times!