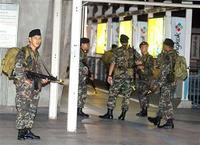 What would you do if you were to bump into these guys at the train station on your way to the office (I really did yesterday) ?
Here is my up-to-the-minute Thailand situation report as well as my assessment of how things will progress going forward and advise for travellers coming to Thailand.
The military coupe d'etat in Thailand has been reported worldwide in the last 24 hours and I trust you are aware of the main events. I am glad to report that the situation in Thailand is very calm and peaceful as of 8:44 AM Thursday morning.
In the last 24 hours the following has occurred;
1. On Wednesday, shopping malls and activities in Bangkok were as busy as on a normal weekdays. Today, all the banks, schools, and government offices are opened normally.
2. The airport has remained open without any delay. Trains and buses throughout the country are all running normally. Hotels are all open as are all restaurants, entertainment, and sightseeing venues.
3. His Majesty the King officially endorsed the appointment of the Council of Administrative Reform with Gen Sonthi Boonyaratkalin as head.
4. The council made several announcements, the main important one being that the council intends to implement a civil government / cabinet within the next 2 weeks and hold elections.
5. All golf courses in and outside Bangkok are open and operating as normal.
I am relieved and pleased that the transition of the government has been peaceful and without harm to anyone. At this point, I am advising all persons traveling to Thailand within the next few days that there is absolutely no reason to cancel or postpone a visit to Thailand!
In the coming days and weeks there will be continuous news about further political changes in Thailand. As the crisis is ending, I am waiting to see exactly how the change in government will be handled and will report further updates here.
If you would like further information or need to reach me you can contact me by email at mark@golfasian.com or at my Thailand golf travel company, Golfasian.
Be safe and do be skeptical of what the big wire services are reporting and what foreign governments may be advising. They have no clue, other than how to sell newspapers and to tell you how terrible things are far away from home.
This post has already been read 10 times!