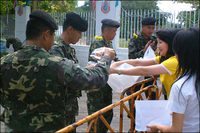 Here is the latest status in Bangkok, Thailand:
Today has been a totally normal day in the city, with business going on as usual. Banks, Stock Exchange and Government Offices were open. Some business news:
The opening of the stock exchange was successful. After a sharp fall minutes after opening, the market stabilized and closed just 1.42% lower, or 9.99 points.
The Thai Baht had weakened in the last days, however strengthened to 37.41 to the US$ dollar, back from US$ 37.76 to the US$ on Wednesday. Before the change of government, the Thai baht was at 37.39 to the US$.
The Council for Democratic Reform under Constitutional Monarchy (CDRM) – the new government – has announced the following:
– The new Suvarnabhumi Airport will open as planned on 28 September 2006.
– The CDRM will now draft an Administrative Charter to accommodate the formation of the new interim government. This government will probably spend maximum 1 year planning a new constitution. Once this is in place, general elections will be called.
Today, my Thailand golf travel company operated all golf tours in and outside Bangkok as normal. All courses remain open, as they have been all week.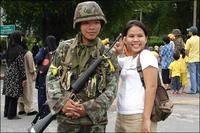 All sightseeing venues were open, including the Grand Palace. The palace has re-opened for the public and the area is clear of military presence. Outside of Bangkok, all is as normal.
As mentioned in my previous post, Thailand is back to normal and everyone is relieved the crisis is over. I now plan to go back to golf related posting,unless anything changes.
If you would like further information or need to reach me you can contact me by email at mark@golfasian.com or at my Thailand golf travel company, Golfasian. Also, please feel free to leave your own comments and opinions on the situation, as I have left the comments on this blog unmoderated.
This post has already been read 11 times!