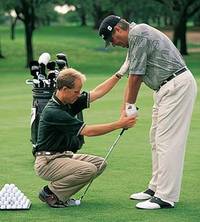 For many people visiting Thailand on a golf vacation, a very popular inclusion in their package are golf lessons.
Whether you have aspirations to be as good as Tiger Woods, or just someone who enjoys a social game with friends, instruction from an expert PGA certified coach is a sure way to improve your game, thus adding to more overall enjoyment. If you are traveling alone, or part of a larger group, there are many quality golf instructors to assist with your game in Thailand, and to help you improve and have more fun!
This could be a simple one off lesson, just to check your swing and give guidance and any ''quick'' fixes that may be required to get you on the right track. Alternatively, at many of the leading golf destinations throughout Thailand, organized golf clinics and golf schools, are available. From beginners to more advanced players, a detailed instruction program can be custom made to suit any requirements.
For beginners, PGA instructors here provide very detailed hands on service, which will allow you to develop quickly and transfer your learning onto the course. They are also available for playing lessons during your initial games to help you with this transformation, and assist you during your game.
For more established players, PGA professionals will work on such areas as ball control and ball spin, and give you more advanced swing and short game instruction, allowing you to build more variation and consistency into your game. Playing lessons can help you with course management, and the mental skills required to assist in better scoring.
Specialized short game and putting clinics can also be designed, improving a major part of the game that is often overlooked by amateurs. Professionals dedicate at least 50% of their practice time to this area, but how much do we do?
The instruction will normally last for 1-2 hours, thus allowing you the rest of the day to enjoy a round of golf. However, this can be more or less, depending on your requirements.
Also, depending on the location of your holiday a qualified PGA instructor can be available to play alongside you as you visit the various courses throughout the country.
All of this is sure to improve your game, and will certainly give you a much greater understanding of both your own golf swing, and the basic principles and techniques applied throughout all aspects of golf. On playing, you will be able to shoot some of your best scores ever, thus making your Thailand golf vacation even more of a success.
Tomorrow I will post on "How to Select a Golf Instructor" but in the meantime and for more details on what is available in a golf instruction package, please post a comment here or email me with your requirements and I will point you in the right direction.
This post has already been read 8 times!