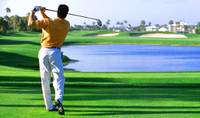 Yesterday, I discussed golf lesson options while on a vacation in Thailand. But how would you go about finding and selecting a suitable instructor so far away from home that will provide value to you during your Thailand visit?
If you are interested in taking some lessons and instruction on your golf vacation, then read on; there are no shortage of opportunities available to you.
You may wish to do a bit of research yourself, and try the internet for information on golf instructors. There are some excellent companies who have a very good internet presence and are easy to find. Do a search on Google using any combination of words like "Thailand golf lessons". This will lead you to many choices. Inquiring about the instructor's PGA credentials is also a wise move as the PGA has strict licensing regulations for all certified golf teaching professionals.
Language can be another point to consider, and it is best to try to get someone who speaks your native tongue, or English, to avoid any communication problems. Throughout Thailand, there are a number of very good instructors from Europe, Australia, and the United States. There are also several very good local teachers that speak fluent English.
In order to source a good coach, you can also request that your golf tour agent handle the golf lesson arrangements and package this into your holiday. Many individual PGA certified coaches' here work closely with golf travel agents, providing their services to clients during their Thailand golf holiday. Alternatively, some of the bigger golf travel companies may have full time instructors or an exclusive agreement with a golf school who will contact you directly with details of their services and costs. This provides you the opportunity to get to know your instructor and tailor make the lesson plan all prior to your arrival in Thailand.
Working through golf travel agents has the added advantages of not only having a tailor made holiday, but also being able to derive the benefits of personalized golf lessons (and improved scores). You can provide details of your requirements, and the agent will respond with a suggested total package and full quotation for you.
You may find that prices vary significantly, but you must look into this in more detail to see what you are actually receiving. In any case, you can expect costs to be much less in Thailand than at home with individual private lessons at 2000 baht per hour and full 18 hole playing lessons with a PGA professional costing 7000 baht. Some coaches will also work with video and computer playback, allowing you to view your swing in more detail, allowing you to understand the recommended changes.
However, whatever your requirements are, there will certainly be someone qualified to match your needs and budget, ensuring your game is in much better shape for the challenges of your golfing holiday. From the basic set up and grip, through to ball control and flop shots, you will learn a whole new dimension to your golf game ensuring better scores and greater enjoyment while having a memorable and exotic golf holiday in Thailand.
If anyone has any good experiences with golf lessons in Thailand or would like to suggest suitable organizations or Thailand golf coaches, please feel free to leave a comment here. Alternately, if you need any suggestions on golf lessons in Thailand, you can contact me at my Thailand golf vacation company.
This post has already been read 12 times!