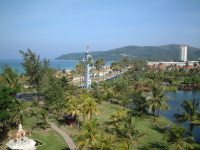 Here are four of my top tips to make your golfing holiday in Phuket more enjoyable:
1. Changing money: There are lots of banks and exchange booths both in Phuket Airport and in the main tourist areas such as Patong and Karon/Kata Beaches and Laguna Resort. They are all competitive and it is much better to change your foreign currency there than at your hotel. You need to have your passport if you are exchanging traveler's' checks or getting cash (or shopping) with your credit card.
2. Eating out etc.- there are loads of restaurants, bars etc. in Patong. Walk along the beach road until you get to Soi Bangla. 'Soi' means street. Turn right. Explore the small Soi's leading off Soi Bangla, and also go to the top of Soi Bangla onto the second road back from the beach (200 Year Road). There are also restaurants going past Soi Bangla on the beach road. Some recommendations: for seafood, The Savoey (sic) and No. 6 Restaurant. Good inexpensive Thai: Sabai Sabai Soi Post Office, and Kaab Gluay on the outskirts of Patong near the (only) Temple (soon after the Esso Gas Station). If you get tired of Thai food and just want a good steak: Sam's in the Holiday Inn, not far from the Amari. Out of Patong: Kang Eng Chalong Bay, about 30 minutes from Patong by tuk-tuk, and Ka Jok Si in Phuket Town (you need to make a reservation).
Up-market: The Boathouse in Karon, about 20 minutes from Patong. They have the best wine cellar on the island and, in addition to the main restaurant, there is the Gung Cafe there, which is a bit cheaper. Baan Rim Pa, near to the Novotel offers high quality Thai cuisine. I suggest that you have your last night dinner here. Also give Baan Yin Dee a try overlooking Patong Bay. Bonus Tip: steer clear of the Indian restaurants and don't be afraid to try the street stalls, especially for noodle soup late at night.
3. After Dinner: Pubs: Molly Malone's on the beach road (a good "HQ" for your golfing group), and Champs (Soi Kepsap) both show all the live sport on satellite TV. A go-go's: Rock Hard (top of Soi Bangla), is a good place to start out after dinner, and look in Soi Seadragon – some there have 'family shows' – it means that all the family are in them! Soi Katoey in Soi Bangla is famous for 'lady men' (katoey means lady man). Discos: Banana (beach road) and Safari out of Patong on the Karon road, about 10 minutes by tuk-tuk. Both good to end the evening. Massage: In the hotel, or Hideaway Day Spa, Soi Nanai (traditional straight Thai), Cristin (200 Year Road, not so straight). Or, a more gentle massage on the beach. Thai boxing ('Muay Thai'): every evening on 200 Year Road.
4. Jeep and Motocycle Hire: If you are thinking of hiring a jeep to drive round Phuket- you can get around the whole island in about 2 – 3 hours – a Suzuki Vitara – Automatic, 1.6 Litre, 4WD, Aircon – costs about THB1,500 a day, including full insurance. Otherwise, just walk along the beach road in Patong and look for the "for rent" signs on the motocyles. When renting a vehicle, be aware that you are liable for all damages to the vehicle. Driving (on the left!) on the island is easy, just beware the slightly crazy local motorcycle riders. There are no security issues really, but you need to ensure that you have full insurance with collision damage waiver – if you are involved in an accident, almost regardless of what has happened, as a foreigner it will be your fault!
Post a comment or let me know at my Thailand golf travel company if you have any of your own tips or recommendations for to ensure a success for all golf traveler to Phuket.
This post has already been read 13 times!