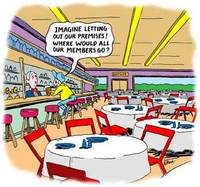 If you are coming to Thailand often and play golf regularly, it's always a great debate on if you should buy a golf membership.
In Thailand, you can buy a membership at a good golf club for between 100,000-300,000 baht ($3000-10,000 US), quite a bargain considering most of the golf clubs don't charge monthly or annual dues, and even better when comparing costs to clubs in the US or Europe.
Lifetime memberships at the best clubs, for example Alpine Golf and Sports Club, Blue Canyon Country Club, and Thai Country Club run upwards of 1,000,000 baht ($30,000 US). All of these memberships come with full transfer privileges making them a kind of investment. In addition, some clubs offer additional services at reduced costs for members. These can include stays at the golf lodges and golf tuition, and spa or massage treatments depending on the on-site facilities.
However, the main draw back with buying a membership is that you feel compelled to play at that course, and because there are so many good Thailand golf courses, why play at just one? There is no doubt that buying a membership at most Thailand golf courses would be good value, especially if you are planning on staying in Thailand long term, but I personally prefer variety. Playing the same course every weak might get boring, especially when there are so many other great courses in the area.
Most memberships are transferable, meaning you can resell them and in principle get your money back, or even make a small profit. There are transfer fees, and it may be a problem if you try to resell a membership in a market that is already in over supply. Fortunately, membership prices have been on a upward trend over the last year, the demand rising as the economy continues to strengthen.
Memberships can be bought directly from the golf club itself, or if you're looking for a bargain, you can search on line or in the newspapers, some brokers offer memberships for around 10% less expensive than what they're going for at the course itself.
A few courses offer annual memberships at reduced costs; Bangkok Golf Club, Lam Luk Ka Country Club, and Muang Kaew Golf Course in Bangkok being a couple of the more popular ones. In these cases, members are charged green fees, albeit at greatly reduced rates. For example, at Lam Luk Ka Country Club members pay 100 baht each time they play during weekdays, and 300 baht each time they play during weekends. This is a fair system based on pay-as-you-play and allows the club to generate some revenue from the members, which in turn facilitates keeping the course in top condition. If you are seriously looking for memberships, I would recommend playing all the courses around the area of interest before deciding. Selecting a course that you enjoy and have some friends who are also members will ensure you play regularly, getting the most out of your golf club membership.
If you have any experiences, thoughts or questions about buying, or selling a Thailand golf membership please feel free to post a comment. Alternately, if you prefer drop me at my Thailand golf vacation company and I will be glad to discuss your Thailand golf membership question.
This post has already been read 60 times!