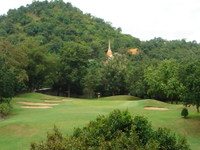 When playing golf in Thailand it's not always necessary to do as the Thais do. Indeed certain Thai customs such as resting on one's haunches for hours at a time, or sleeping atop a motorcycle, might present some physical difficulties to the average Western golf traveler.
However, if you are planning your first golf tour in Thailand, or even if you have stayed and played golf in the Land of Smiles in the past, here is a list of 10 things for you to avoid doing – and some you should remember always to do.
1. Never say anything which might be considered disrespectful of the King or Royal Family. In general, do not make direct criticisms of things not to your liking; you may unwittingly offend your Thai listener.
2. The head is considered by Thais to be the noblest part of the body, so as a general rule, avoid touching people on the head, and certainly, on a beach for instance, never step over a person's head.
3. At the other extremity, the feet are considered less than noble; therefore do not point with the foot and do not kick the grass when you hit an errant shot. This not only shows your immaturity, it also damages the course and does nothing to change the shot.
4. You can point at objects but never point at people. It's considered very rude and this includes pointing with any of your golf clubs!
5. Public displays of affection are taboo. The Tourism Authority of Thailand advises that holding hands is the accepted limit in this regard. OK, I guess a quick peck on the cheeks for a greeting is OK, for those from European countries where this is the norm.
6. Prolonged staring at another person, including your caddie, is also considered to be very rude and risky. A quick smile and a friendly nod are safer and more polite.
7. Do remember to remove your shoes before entering a Thai house, especially at the girl friend's up country home where the custom of washing your feet with ladled water and rubbing one foot on the other, may still be in force.
8. Do dress appropriately which means not wandering around the city dressed for the beach. It is especially important at temples where the correct dress requires females not to wear shorts, slacks or short skirts. Males should also not wear shorts and will be more respected if they wear long sleeved shirts, but don"t sweat this last point if you are visiting in the hot season.
9. When golfing, also follow the appropriate dress code; no sandals, cut-offs, nor t-shirts.
10. Finally do remember to emulate that famous Thai smile — especially on the golf course, even after that 7 on a Par 3!!
If you have any Thailand golf tips of your own, please feel free to post a comment otherwise you can drop me an email at my Thailand golf vacation company and I will take care of posting chores.
This post has already been read 19 times!