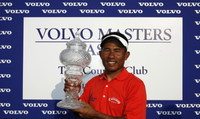 I was glad to see Thailand's pro golfers do so well in the US$650,000 Volvo Masters Asia Tournament being played over at the Thai Country Club in Bangkok last week.
Thai star Thongchai Jaidee needed only a par in his last round to win, whilst compatriot Thaworn Wiratchant showed he was determined to sign the year off as Asia's number one, but his hopes dipped dramatically on the back nine after he ran up a bogey and double-bogey on the 15th and 16th holes, finding water on both occasions, after battling hard for the lead with Thongchai.
He plummeted to fourth place Thaworn, winner of four titles in 2005 but yet to taste victory this season, shot seven birdies in the second round.
Thongchai, winner of the event in 2003, used his power to good advantage when he birdied all the par five holes on the second sun-kissed day at Thai Country Club. The great Thai pro golfer's popular home triumph extended his impressive streak of winning a title every year since 2000 and also tied Thaworn's record eight victories in Asia.
Other Thais to finish atop the leaders at joint sixth along were Prom Meesawat and Chawalit Plaphol,
At one time, Thailand had only one pro, Boonchu Ruangkit, who featured regularly on the PGA Tours. Now, Thailand has really progressed in the past few years as a golfing nation, partly because top golfers here have every chance to play a whole host of championship standard courses – and, fortunately, so do we.
If you would like any suggestions on some of the lesser known, albeit just as good, championship courses around Thailand just post a comment or drop me an email at my Thailand golf vacation company.
This post has already been read 13 times!