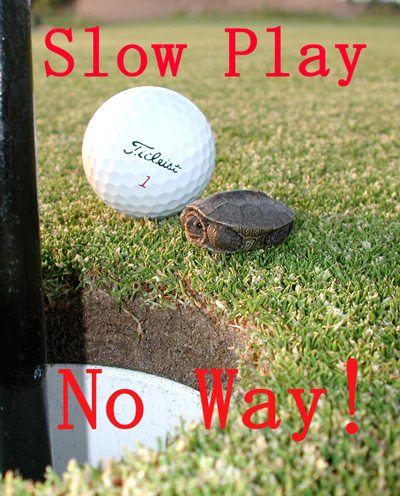 If you play golf in Thailand you will once in awhile find yourself behind a slow group. This is especially common during the next few months as it is the peak of the tourist season and Thailand golf courses are at their busiest levels.
Some of the lesser courses in Thailand allow five players per group, and municipal ones can even allow six balls. In addition, golfers from Korea are known to be some of the slowest players and rounds at courses which are heavily used by large Korean groups can take upwards of 7 hours, not fun at all!
You should be especially cautious of the golf course with on-site resorts such as those in Khao Yai (Sir James and Mission Hills), Hua Hin (Palm Hills), and Chiang Mai (Green Valley and Royal), as these are some of the courses that are favorites among the Koreans.
For even better reassurance, most any Thailand based golf travel agent can advise you of the booking situation at each course on your particular day of play and steer you in the right direction so as to avoid courses that are catering to the bus loads of Koreans in the first place.
On the other hand, many groups of Thai and local golfers play surprisingly fast, the key being that the walk to their own ball, hit when ready and as soon as they have finished putting out they are on the next tee teeing off before the rest of their playing partners have finished the last hole. On busy days you might want to adopt the same for your own group
Regardless of what country the group in front of you is from, there are inevitably some golfers that play slow. In you find yourself in this situation what can you do? One option that one of my former playing partners liked to adopt is yelling out, and playing through without actually getting the OK. This is surprisingly effective, but not an option for most people, and very bad etiquette.
If the group in front does not let you through, and there will be some that simply refuse, you have two options. One is that you can get upset and frustrated, let them ruin your round and blame every bad shot on them. The second one is to just accept slow play and enjoy the fact you're lucky enough to be playing golf in the winter months anyway. The first option is the choice for most players, including myself on some days, but the second choice should be your goal.
What else can you do ensure slow play does not ruin your round? Firstly, just decide there's nothing you can do about it and there is no use in getting upset over it, not letting it affect your score in any way. This is sometimes difficult, but try to find something to do while waiting. Talk to your playing partners, practice your chipping, or repeat a swing thought that you are trying to ingrain in your swing. This can be very effective in passing the time and has the added benefit of actually improving your game.
If only the group in front is playing slow and falls more than one hole behind the group in front of them, then you can call the marshal. In Thailand, this is difficult because of the language barrier, but if you keep complaining to your caddies, they may call the starter and have him come on course to rectify the situation.
As with all things in golf, you have a choice of how you react and while it is difficult to play behind a slow group, you'll enjoy it a whole lot more if you CHOOSE to not let it annoy you. You've paid good money for your round, so make up your mind not to let anything ruin an otherwise great Thailand golf vacation.
If you have any slow golf stories or tips do post a comment or if you need any more information on which courses are best to avoid the bus loads of Korean golfers, just drop me an email at my Thailand golf vacation company.
This post has already been read 11 times!