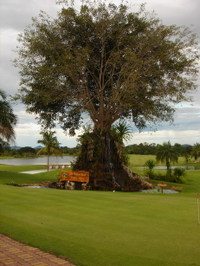 Thailand golf high season is fast approaching and golfers thinking about a Thailand golf vacation most always ask me:
1. When is the best time of year to play golf in Thailand? and
2. What time of day is best to tee off?
I have covered the first question in several past posts, but the later question is quite interesting and I have not seen much information on the topic.
Actually, you can golf at any time from sun up (around 6:30 to 7 a.m.), throughout the day. The latest tee-off time realistically, allowing sufficient time to get your round in before dusk is 2 p.m.
A few golf courses block off certain tee-times as reserved for members. Most Thailand golf travel agents will know and can advise you which tee times are unavailable when, and at which golf courses.
Most golfers opt to play either early or late. The advantages of playing early are that you have the benefit of the cool, early morning breezes, you are less likely to be held up by slow groups ahead, and the refreshment kiosks are well stocked. Also, you are assured of getting back to your hotel by early afternoon. This affords you to the rest of the day to spend with your family or friends while cherishing fond memories of your morning round.
The disadvantages are that you have to get out of bed early (quite difficult and sometimes down right impossible if you had a late out out the previous evening), and at the end of the round when you are most tired, you are playing at the hottest part of the day.
My own preference is a tee-off around 1:30 p.m., following a lazy start to the day, and a light lunch at the often excellent restaurants at Thai golf courses. The advantages are that you have the benefit of the cool, late afternoon breezes at the end of the round when you are most tired, and after a welcome shower and, possibly, a massage, you are all ready for whatever the evening brings you.
As against that, you run the risk of being held up by slow groups ahead, and possibly face a late afternoon shower, and often the refreshment kiosks are either sold out of some items or worse, closed with the staff having gone home early. Definitely not good if you want to have get an early start to a nice evening with a cold one towards the end of your round.
Well I hope that gives you some ideas of the best time of day to play. However, if you have any further questions or comments please do feel free to post a comment or drop me an email at my Thailand golf vacation company.
This post has already been read 11 times!