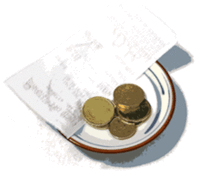 Thailand golf is what you are all here for and in today's continuation post I will cover common tipping practices on the golf course, in bars, and while traveling on the road here.
On the golf course, tips are one of the main ways the caddie generates their income. Although you pay a caddie fee in the cost of your green fee, only a portion of this goes to the caddie so the emphasis is then on them receiving good tips. At my golf travel company a 300 baht minimum is suggested to all Thailand golf holidaymakers. Although you can consider paying more, 500 to 1000 baht, if you have a particularly excellent caddie that helps you shoot under your handicap or you feel overly generous. Certainly any caddie that gets a 500 baht or more tip, will be the pride of her group for the evening.
As for the bars tipping again is expected, although certainly not compulsory. Although the girls employed in many of these establishments will very tactfully try to ensure you buy as many drinks as possible, a small tip at the end is expected. A guideline here would be to leave around 50-100 baht ($1.25 to $2.50 US), especially if you are satisfied with services received.
Other persons that you would be expected to tip are the drivers of any private transportation used throughout your stay in Thailand. The amount will depend if you have a dedicated driver for a week for example, or only a day. This should certainly be higher than taxi's as these drivers are more likely to have you on longer destinations, but again nothing to much, 100 baht ($2.50 US) per day per person would be a good rule of thumb, particularly if the driver has helped you and added to your Thailand vacation enjoyment.
Use common sense whilst tipping and the Thais will hold you in very high esteem. It is not so much the amount, but the fact that you show a small token of appreciation to commend them on their service.
I hope that the information posted over the last 2 days can serve as a good tipping guide for Thailand. However, if you have any questions about special circumstances please either post a comment here of email me at my Thailand golf vacation and holiday company.
This post has already been read 11 times!