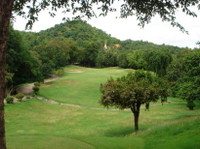 With great Thailand golf plans in hand, golf holiday dates firmed up, and tee times confirmed, what else do you need to be aware for your Thailand golf vacation?
The short answer is food and water! Here are some tips to help ensure that you enjoy your time golfing in Thailand.
Before play, don't skip meals. This could affect your focus and energy levels dramatically. I suggest you eat a small, balanced meal 30 to 60 minutes before tee time. An example of this may be a low-fat and low-carbohydrate snack, a piece of fruit and at least 12 to 16 ounces of bottled water. Skip the caffeinated drinks like soft drinks, coffee or tea. Caffeine will cause you to dehydrate, which is a very bad situation when walking a hot Thailand golf course.
Drink another 12 to 16 ounces of water before your round. Muscle tissue is roughly 75 to 80% water. So if your muscles become dehydrated by as little as 2%, you can experience a very significant loss of power, club head speed and distance. Not to mention a loss of concentration, coordination and energy.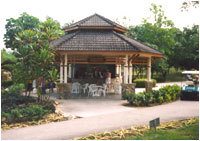 During play, drink at least 6 ounces of water every 3 holes. Your best bet is to carry a bottle of water with you as you play, or make a stop every 3 holes at all of the refreshment kiosks found at most Thai golf courses. If you become thirsty, it means you're already slightly dehydrated. Using thirst as an indicator to drink means it's already too late.
There is usually a wide selection of foods to eat at the refreshment kiosks. Good foods to eat during play include: almost any kind of nut or legume; a sandwich; pretzels; boiled eggs; bananas or fruit. Avoid drinking sports drinks unless you've only got an hour left until the end of the round and do not mind the sugar come down. If you are sensitive to hot spicy food, be selective in your choice of local dishes. Ready made desserts and reheated meats are also best avoided as they likely have been out in the sun all day without refrigeration.
After your and shower, if time permits, it is a nice practice to grab a bite to eat and some drinks with your mates in the clubhouse restaurant before heading to your hotel. The Thailand golf course restaurants have a wide selection of both Asian and western dishes, are of very good quality, and unlike other countries, are surprising inexpensive. A full stomach with a nice beer or two makes for a very relaxing journey back to your hotel and an excellent way to wind up a day at the links in Thailand.
Please let me know your Thailand golf easting tips by posting a comment here or if you prefer you can can contact me at my Thailand golf vacation and holiday company.
This post has already been read 12 times!