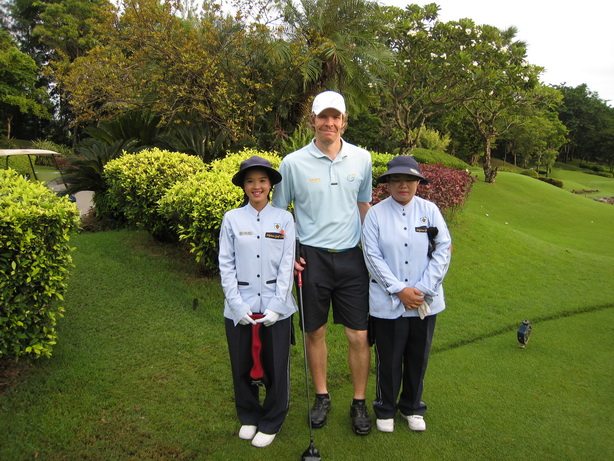 No doubt, any Thailand golf holiday is an exciting time, no matter what the itinerary. Most of the 600,000 golf holidaymakers who golf in Thailand each year come to Thailand as free independent travellers (FIT) whose agenda, destination, Thailand golf course line-up, and Thailand golf resort is totally up to their own discretion. This insures that the Thailand golf travellers' budget and style of travel is exactly as the golfer prefers. Travelling alone also ensures that you can set your own schedule (e.g. golf early one day and golf in the afternoon the next). Golfers enjoy a fair amount of privacy, especially those who prefer more luxurious 5* golf resorts.
On the other hand there are some disadvantages to FIT Thailand golf packages. Golfing alone or in a small group is generally more expensive that as part of a large group. In the case of a group transportation costs can be shared among a larger number of players and the event organizer can usually negotiate lower group green fees with the Thailand golf courses. This is especially true for singles or those travelling as only a two-ball.


Group golf tours also have their place in the Thailand golf holiday arena. Joining a group Thailand golf tour is simple. Every aspect of the golf holiday is laid out and all one needs to do is pay and pack. Participants on a group golf tours also get to socialize with other like-minded golfers making friends with golfers from far away lands. Often times the tour organizer has made provisions for tournaments; ideal for competitive Thailand golf travellers, and this makes the golf tour that much more interesting.
The downside to group tours is that they generally (not always) include lesser quality mass-marketed hotels, a mixed bag of golf courses (some good ones and some mediocre ones to keep the costs down), and there is no privacy since participants travel on large buses and all meals, golf, activities and tours cater for the maximum group size.
In Thailand there is something for every golfer. So whether you prefer to travel as an FIT or as part of a group you are guaranteed a great time. Whatever your preferred travel style, give a Thailand golf holiday a try. You will be happy you did!
This post has already been read 22 times!