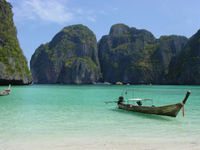 Phuket, Thailand's largest island, is without doubt one of the most exotic destinations in Southeast Asia. The island hosts a number of first class golf courses, and is a dream destination for those wishing to combine golf together with some stunning beach resorts, providing total relaxation.
Fully recovered from the tragic and unfortunate events of the December 2004 tsunami, Phuket is looking better than ever and a continuing to attract huge investment in further developing the island.
In addition to the world famous Blue Canyon Golf Resort which has 2 different courses, Phuket hosts other championship courses in Laguna, Phuket Country Club, Loch Palm (soon to open a second 18 holes), and the recently completed Mission Hills resort. This gives golfers plenty of options whilst holidaying on this stunning island. The one strange fact is that only half of the courses (Loch Palm, Mission Hills, and the Blue Canyon Lakes course) have golf carts available for rent. This strikes me as rather odd since practically all other Thailand golf course have carts available. Moreover, since Phuket is a resort area one would think that all of the courses on Phuket would provide for this optional service.
Phuket is famous for its stunning white beaches, cooling blue lagoons, and tropical mountainous interior. All of this provides a stunning and glorious image, for further enjoyment to the visiting tourist.
The capital of the island is Phuket town, but the town of Patong; on the south west side of the island is the main tourist destination. Accommodation is in abundance and suits all levels of budgets. From simple beach huts, to grand world-class resort hotels with sumptuous spa facilities, there is a huge choice throughout the island. Further up the east coast from Phuket town, lies the recently opened boat lagoon and Laguna areas, which are slowly transferring into very upmarket areas, attracting international sailing enthusiasts and holiday makers from all around the world.
Outside golf there is plenty of choice for the visiting tourist. Aside from the stunning beaches, you can visit many of the smaller island around Phuket by boat, go coral reef diving, game fishing, elephant riding, together with trips through the mountainous interior and a visit to the national park, which boasts some stunning waterfalls.
Tomorrow I will finish discussing Phuket and its nightlife as well as cover Koh Samui as an alternate island golf destination.
This post has already been read 16 times!