the web site.This is the continuation about Phuket and comparison to Samui as golf holiday destination.
In Phuket in the evening there are many choices for dining and entertainment especially in the lively town of Patong where selections range from beer bars to live music, and shows. The restaurants provide a massive choice from local seafood to 5 star international cuisines. There is an abundance of night markets and there are modern shopping malls, selling all brand name products.
Without doubt, Phuket is most definitely one of the great holiday destinations in the world and will provide you with a golfing holiday you are sure never to forget.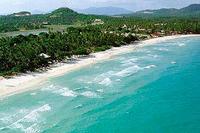 Koh Samui, referred to as the island of coconut trees, is Thailand's third largest island and is now host to one of the most stunning championship golf courses in Asia. The only course on the island, Santiburi Samui is set in the northern part of the island, and provides some of the amazing sights of the surrounding ocean and mountains that you are likely to see anywhere in the world. I have been recommending this course since it opened a couple of years ago and the feedback is always first class.
Discovered many years ago by the first back packers who started coming to Thailand, Koh Samui has slowly transformed into a destination for both families and single travelers.
Like Phuket, the island has seen huge investment over the last few years and this continues with many international resorts being built. Samui has also kept its original style, and you can still rent beach bungalows literally a few yards from the ocean.
Famous for it's "full moon" parties, Samui has now been transformed into not only a favorite destination for party seekers, but also for more mature minded travelers seeking a quieter and less spoiled alternative to Phuket.
Like all of the leading tourist destinations, there is no shortage of choice when out dining, but without doubt, Koh Samui specializes in the finest seafood available anywhere.
The night markets sell jewelry, souvenirs, textiles, and handicrafts, and are produced by the local people. However, as it is no way as commercialized as Phuket, this means as yet there are no large shopping malls.
Koh Samui cannot at present offer the same level of choice as Phuket, but do not let this put you off this stunning location. With the very cheap airfares, and its close proximity to both Bangkok and Phuket, this makes it an ideal choice for a two centre vacation.
If you are interested in more information, post a comment, send me an email or drop by the web site.
See you on one of the fairways in paradise!
This post has already been read 14 times!