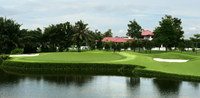 You might be wondering what does the title of this post mean? Everyone knows Thai Country Club (TCC), the site of many majors and where Tiger Woods won in 1998. Well I have just found (actually re-discovered) a course that is very similar to TCC in so many ways that it begs the name mini-TCC. The course is Green Valley Country Club which is a Robert Trent Jones Jr. designed course and located only 15 kilometers south of Bangkok, a short 30 minute drive from town.
Just look at this picture of one of the Par-3's. Every hole is as beautiful. All the greens are extremely hard, fast, and undulating in similar fashion as TCC. This was especially impressive as we are in the midst of the so-called rainy season and many other courses around Bangkok are somewhat water logged. The fairways are also well designed with bunkers strategically placed at around 200-250 yards from the tee boxes. All of the holes require careful thought out approach shots or else it is quite easy to get in trouble if approaching the green from the wrong side. Other key benefits that beg the course to be championship rated is that the caddies are very well trained and helpful and even the showers in the locker rooms have those rain shower heads, which is a nice touch only seen at TCC.
Why isn't the course better known or publicized? Well actually it is, to Thai golfers. Usually the course is booked only with locals who, I think get preferential rates during the summer months. Having played today and inquired with the staff, I have found a way to get "local rates". In the coming months, I plan to start to offer and package Green Valley with some of our tours and hope others can enjoy the great value championship golf here at around half the price of TCC.
Let me know if you or anyone else has or would like to play Green Valley. Comments are most appreciated!
This post has already been read 10 times!