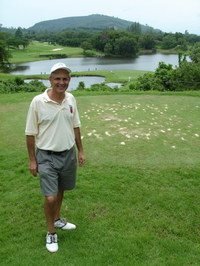 After one month of solid rain I am glad to report that the Phuket golf courses are returning to their generally excellent conditions. Last week I had the opportunity to play Laguna, Blue Canyon, and Loch Palm. Of the 3 only Loch Palm showed any serious signs of weathering. Laguna, being built on a good sandy base was not surprisingly in the best condition. Although I am not too fond of the front nine, mostly open and flat, the entire course played well. The back nine, especially holes 16, 17, and 18 were the real standout and represent the best challenge on the entire course.

Blue Canyon, which is built on an old tin mine in the northern part of the island was very playable. I had heard that the greens were cored and sanded a few weeks ago and this probably accounted for the slow speeds, but nevertheless, they played fine. The scenery on the course always amazes me and this time it was no less stunning. In fact the picture at left was taken from the 13th hole tee box which over looks the canyon and old tin mine.
One more thing, I checked on the ongoing Lakes course renovations, and they look to be progressing well. All of the greens are being replaced and many new bunkers are being added. Judging from the progress the Lakes Course should be open and ready for play on time before the November high season commencement.
Loch Palm was another matter all together. I was very disappointed that the course had sustained serious water damage and is almost non playable. many of the fairways have bare spots where the grass has rotted due to being underwater and the greens are in similar condition. The course management is well aware of the problems and need around 6 weeks of relatively dry weather to correct the situation. I will continue to monitor things and report again closer to the high season. Baring and late rains, I do expect the course to recover over the next few months.
That is it except to that Mr. Harry Scott of On-Green Golf for all the excellent arrangements and photos.
This post has already been read 10 times!