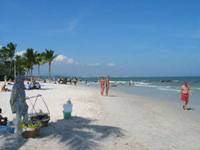 Here is the second half of "strange facts about Thailand golf". I hope you enjoy reading the post and find a few things of interest. Please also let me know your experiences and comments.
Also, can anyone recognize this beach? A copy of the soon to be published 2007 Thailand golf map awaits the first person who can correctly identify it by submitting a comment to this post.
Now on to the Myths and Facts.
Myth – The courses are of inferior quality. Thailand hosts many championship standard courses designed by leading golf professionals and top golf course architects. Many of these courses are simply stunning, and are of excellent quality and in extremely well maintained condition. Overall, the quality of courses in Thailand is far superior than I have come across in other established golf tourist destinations throughout the world.
Myth – It is difficult to get about the country. Thailand has a huge number of tourists visiting each year and the infrastructure and transport is extremely good. With the new airport, considered to be the best in Asia, opening in 2007, together with many motorway links, getting around Thailand is not a problem.
Fact – The hotel facilities are nothing short of first class and great value for money. Many international hotels, together with more Thai style designed accommodation, have to be seen to be believed. The world renowned service and hospitality of the Thai people is second to none, enhancing the fantastic facilities on offer.
Myth – There is not much do outside golf. With its amazing culture and history, Thailand offers a huge choice for visitors outside golf. From the temples to night markets, from the beaches to the mountains and waterfalls, you will be stunned by what this beautiful country has to offer.
Myth – Thailand is not a safe place. The extreme opposite, Thailand is a safe place is actually in fact true. With the Buddhist culture, and amazingly friendly people, you have no personal security risks in Thailand. Walking the streets in Bangkok is safer than in any other major city in the world.
For any other opinions, please post a comment. I would like to hear from you.
This post has already been read 14 times!