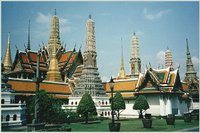 There is no doubt that many people have many misconceptions about Thailand as a golf travel destination.
Over the years, Thailand has developed a reputation for many of the wrong reasons, and only those who have visited, realize what a wonderful and beautiful country it is, with so much to offer the golfing traveler.
Thailand is now by far the leading travel destination in South East Asia, and is now regarded as one of the leading tourist destinations in the world. With regards golf, it has recently been voted by the world golf travel agents federation as the best up and coming destination in the world, now competing with many of the established European and American resorts.
In order to give you a greater insight into golf in Thailand, below, are some of the facts and myths that hopefully will assist you in selecting your next golf holiday.
Myth – There are not many golf courses in third world countries like Thailand. There are now well in excess of 200 courses located throughout Thailand, with the majority based at the leading tourist destinations. These courses provide a wide and varied choice ensuring a great test for all abilities.
Fact – Golf is very affordable in Thailand, the prices being considerably cheaper, many even the cheapest, compared to other golf destinations throughout the world. With the inclusion of your own personal caddie, golf in Thailand represents fantastic value.
Myth – It rains all the time and you can only play golf in the high season, from November to February. Golf is playable all year round in Thailand, although there is no doubt that the winter months are the best time to visit. However, in the summer months, there are great deals to be had with regards to hotel accommodation, and the courses are much quieter. Admittedly, it can be a bit warmer and you are in the rainy season, but the frequent showers are very short lived, and hardly even bring your game to a halt.
Myth – A handicap card or 'golfer's certificate' to play golf in Thailand. Unlike many other countries, anyone can play golf in Thailand, including the complete beginner. No documents are required to make a booking nor begin a round. However, I would recommend beginners consider a couple of days of instruction to familiarize themselves with the basics of playing golf, together with the rules and etiquette required.
Tomorrow I will continue with some additional myths and facts about travel, hotels, and security.
This post has already been read 11 times!