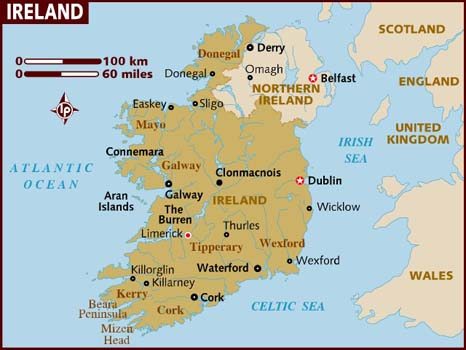 Here are my rankings on the golfing in these 2 countries on a scale of 1-10 with 10 being best.
Quality (30%)
Ireland (9): The country is home to some of the world's best golf courses. Most all are pure links courses. The best Irish golf courses include K Club (Ryder Cup), and the incredible Druids Glen.
Thailand (7): Of the 250 Thai golf courses, 60 are standouts. Thailand's best golf course is Black Mountain in Hua Hin. Other notable favorites are the spectacular Red Mountain in Phuket and Banyan in Hua Hin.
Service (25%)
Ireland (8):  Ireland has a good reputation for warm hospitality. Most resorts offer nice spas and excellent food and beverage choices. Many of the more popular golf courses also have caddie services available for visiting golfers.
Thailand (10): Thailand sets the standard for friendly hospitality by locals. Golf clubs welcome visitors from all over the world. Caddies are among Thailand's secret weapons and make anyone's game enjoyable.
Golfing Experience (25%)
Ireland (7): Good nightlife at Irish Pubs combined with many cultural and historical sites make an Ireland golf experience truly memorable 
Thailand (10): Thailand is a major tourist destination with world famous beaches, sights, and cultural attractions. Moreover, the Thai golf experience is unique  and every golfer should try a Thailand golf trip to find out what all the buzz is about.
Value For Money (20%)
Ireland (6): Golf in Ireland can be reasonable or expensive. There are many unknown courses with low green fees to choose from. However, the famous ones and better resorts during the warmer summer months start to get pricey as could be expected. 
Thailand (8): Green fees at Thailand's bet courses match what one would pay in Europe. However, accommodations, transportation, dining, and entertainment are all very affordable making overall trip costs lower than average.
Overall Verdict (100%)
Ireland (7.65):  Ireland undoubtedly has some of the world's best links courses and much better golf than Thailand. However, weather can be a factor for some and getting to/from Ireland can be a journey in itself, especially from places like Australia or the west coast of the USA.
 
Thailand (8.70): Thailand has a wide golf appeal, especially for those golfers looking to play in year round sunshine. Some 600,000 foreign golfers chose to golf in Thailand each year
Stay tuned for the next world golf challenge to see how Thailand stacks up against other golf destinations. Let me know if you want to see your country included in my survey.
This post has already been read 18 times!