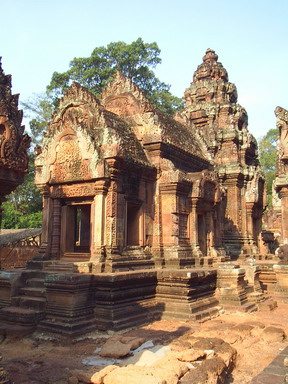 So, why would you combine a Thailand golf tour with Cambodia, that is aside from getting to play 2 great golf courses? In other words what else is there to do in Siem Reap?
Well the obvious thing (and the main reason most people go there in the first place), is take in the famous World Heritage Site 'Angkor Wat' and other ancient Khmer temples in the area.
Angkor Wat was built in the early 12th century for King Suryavarman II as his state temple and capital, though it didn't become well known to the western world until a started French explorer came across it in the mid 19th century and described it as: "One of these temples, a rival to that of Solomon, and erected by some ancient Michelangelo—might take an honorable place beside our most beautiful buildings.  It is grander than anything left to us by Greece or Rome".  Strong words, but one visit and you'll understand.  Angkor Wat is the pride of Cambodia, as reflected by its image on the nation's flag.
While Angkor Wat is the largest and most famous Hindu/Buddhist temple in the area, there are many more, each unique from the others.  Depending on your level of interest, one can spend anywhere from a half day to an entire week exploring these ancient wonders.
Another interesting way to spend a half day or so is a tour of Lake Tonle Sap, where your guide will take you on a boat trip among the floating villages and fishing communities of locals who live a timeless lifestyle farming the largest freshwater lake in Southeast Asia (its actual size varies from 2,700 – 16,000 square kilometers, depending on the season).  During the trip you can even dine and drink on a floating restaurant complete with its own live crocodile pit!
In the evening hours, the most popular place to hang out is Pub Street.  Getting there is easy, just walk outside your hotel and hail a Tuk Tuk taxi (they're everywhere) at a cost of about $1 US per person (though the country has its own currency, the US dollar is the primary functional currency of Cambodia and accepted everywhere).  Cambodian Tuk Tuks are essentially a covered 2 wheel cart with a bench seat pulled by a motorcycle, and a fun way to get around (assuming you don't mind eating a bit of the ever present street dust).
Pub Street has numerous pubs and restaurants in a wide assortment of atmospheres, styles and cuisines to suit visitors of all tastes.  Venture off the main drag and you will also find many more in the nearby side streets.  One of the largest and most famous is The Red Piano, said to be the favored watering hole of Angelina Jolie and staff during the filming of the hit movie 'Lara Croft: Tomb Raider'.
Massage, karaoke and live music are also widely available in both the Pub Street area and at many area hotels.
How to Get There?  Siem Reap is a one hour flight from Bangkok with several daily flights available.  Additional direct flights are available from Ho Chi Minh City, Hanoi, Singapore and some other international gateways. Of course, anyone with interest in a Cambodia golf adventure can email me. My Indochina golf tour company will help with all the arrangements!
This post has already been read 10 times!