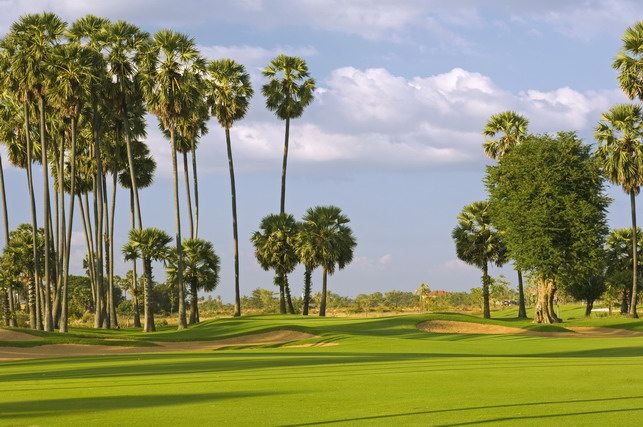 Siem Reap's second championship golf course opened in early 2008.  The 7,279 yard Nick Faldo designed Angkor Golf Resort is conveniently located near the airport and close to all area hotels. 
Carved out of land that was previously flat, featureless rice paddies, Faldo was able to use all his imagination at the Angkor Golf Resort, with the end result being a fun and challenging course that is very playable, though will play you if you are careless.
This is one course you can't just grab a club and rip away at.  Numerous strategically placed bunkers and water in play on every hole force the golfer to play within his game.  Play it smart though and the thinking golfer will find generous fairways to hit to (or so I've been told by thinking golfers).
While I for one believe Captain Nick got a bum rap from the media over his handling of the 2008 Ryder Cup matches, after playing Angkor Golf Resort's signature 13th hole, an s-shaped par five, I wanted to give the old boy a few raps of my own!  The hole basically resembles the Sahara desert with a few oasis fairway sections scattered about.  A big drive gives you a tempting shot to go for the elevated green in two, but miss and the chances of finding your ball lying on anything green are remote.  Play your second shot safe and you'll have a more favorable approach angle, though one that is still well guarded with a narrow opening and sand all around.
Despite being open less than a year, the course has already hosted a who's who list of celebrity Southeast Asian golfers, including the Prime Minister of Cambodia, the King of Malaysia, Thailand's globe trotting exiled former Prime Minister Thaksin Shinawatra and numerous other regional movers, shakers and tycoons.  Rumor has it a few dollars may have even been exchanged during some of these rounds (imagine that!).
Though challenging, this is one course that beckons you back for a replay.  Armed with a bit of experience, chances are you won't repeat some of the mistakes you're bound to make during your inaugural round.  In addition, the service and course conditions are nothing short of first class all around.  In fact, many golfers are surprised to find such near perfect turf conditions on a course so new.  And the small but comfortable modern clubhouse serves up some tasty dishes to enjoy with a post round local brew.
During course opening ceremonies, the six time major winner Nick Faldo received a blessing from local monks before entertaining attendees with a golf clinic and an 18 hole playing tour.  The blessing may not have helped his Ryder Cup team, but traveling golfers wandering to this corner of the world will definitely feel blessed discovering such a great course in such an unlikely location.
This post has already been read 9 times!